UFC 112 | Hughes Spoils Renzo Gracie's UFC Debut
Category:
MMA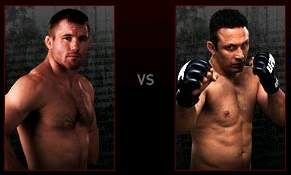 Matt Hughes has been one of the most dominant UFC fighters ever.
He is a former two-time UFC Welterweight Champion, has put together two separate six-fight winning streaks in the UFC, has defended the welterweight belt a record seven times and is tied with Chuck Liddell for the most wins in the UFC with 16.
However after losing the belt to Georges St-Pierre at UFC 65, his career has been spiraling downwards being only 2-2 in his last four fights.
At UFC 112: Invincible, he will try to regain the aura of invincibility that so defined him early in his career.
Standing in his way is Renzo Gracie of the famed Gracie family from Brazil.
This might be his first time to enter the Octagon but he has already defeated former UFC champions Pat Miletich, Oleg Taktarov, Frank Shamrock, Carlos Newton and Maurice Smith.
Not impressed?
Gracie is also the head instructor at the Renzo Gracie Academy in midtown Manhattan having trained fighters such as Georges St-Pierre, Matt Serra,  Roy Nelson, Rafael Correa and Ricardo Almeida to name a few.
Ok, this fighter is not to be underestimated.
Hughes (43 wins, 7 losses) is one of the most complete MMA fighters ever having shown the ability to finish fights stand-up or on the ground. Of his 43 wins, 15 were by knockout and 18 were by submission. Only 10 managed to go the distance and most of them, he won unanimously.
Gracie (13 wins, 6 losses) is a Brazilian Jiu-Jitsu practitioner just like the rest of his family are. He has competed at PRIDE Fighting Championships, the International Fight League, RINGS, Martial Arts Reality Superfighting (MARS) and the World Combat Championship but never in the UFC.
Watch UFC 112 LIVE stream FREE on Saturday, April 10, 2010 – 1 PM ET/10 PM PT with REPLAY at 10 PM ET/7 PM PT / 3AM BST at the Concert Arena, Ferrari World in Abu Dhabi, UAE.
=======================================================
UPDATE April 10, 2010: Hughes defeated Gracie via TKO at Round 3.
Watch the Matt Hughes vs Renzo Gracie video below:
[ad name="image_afterpost"]
You can also watch the following UFC 112 videos once available:
Anderson Silva vs Demian Maia video
BJ Penn vs Frankie Edgar video
Terry Etim vs Rafael dos Anjos video
Kendall Grove vs Mark Munoz video
If you want to receive my latest posts, please
subscribe to my full feed RSS
or have them delivered through email. Just enter your email address below and hit the Subscribe button.
Tags: matt hughes, renzo gracie, UFC 112
4 Responses to "UFC 112 | Hughes Spoils Renzo Gracie's UFC Debut"
Leave a Reply