UFC 112 | The Filipino Machine Wrecks Da Spyder
Category:
MMA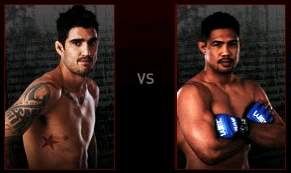 There have been few fighters with Filipino blood who have had success in the UFC.
The most successful is Brandon Vera but after becoming a hot item with 4 consecutive wins (in astounding fashion) to start his UFC career, he has been spiraling downwards managing only 3 wins in 8 fights and is on a two-game losing streak with losses to Randy Couture at UFC 105 and Jon Jones at UFC LIVE: Vera vs. Jones.
Looking to make his mark is Mark "The Filipino Wrecking Machine" Munoz who made his UFC debut at UFC 96 but lost to Matt Hamill. He has since recovered and won two consecutive times against Nick Catone at UFC 102 and Ryan Jensen at UFC 108.
At UFC 112: Invincible, he looks to make Kendall "Da Spyder" Grove his third consecutive stepping stone to the UFC middleweight ladder.
Munoz (8 wins, 1 loss) is a wrestling champion at college becoming the first Filipino American at the Division I Level to win a National Championship.
Grove (11 wins, 6 losses) is a UFC veteran with 8 bouts to his credit after becoming the winner of the reality show TUF 3: Middleweight.
Watch UFC 112 LIVE stream FREE on Saturday, April 10, 2010 – 1 PM ET/10 PM PT with REPLAY at 10 PM ET/7 PM PT / 3AM BST at the Concert Arena, Ferrari World in Abu Dhabi, UAE.
=======================================================
UPDATE April 10, 2010: Mark Munoz def. Kendall Grove by second-round TKO Round 2, 2:50. It was a come form behind victory by Munoz after being dominated by Grove in the 1st Round!
Here's the Kendall Grove vs Mark Munoz video:
[ad name="image_afterpost"]
You can also watch the following UFC 112 videos once available:
Anderson Silva vs Demian Maia video
BJ Penn vs Frankie Edgar video
Matt Hughes vs Renzo Gracie video
Terry Etim vs Rafael dos Anjos video
If you want to receive my latest posts, please
subscribe to my full feed RSS
or have them delivered through email. Just enter your email address below and hit the Subscribe button.
Tags: kendall grove, mark munoz, UFC 112
5 Responses to "UFC 112 | The Filipino Machine Wrecks Da Spyder"
Leave a Reply