TUF 11 Episode 3: A Lotta Heart
Category:
MMA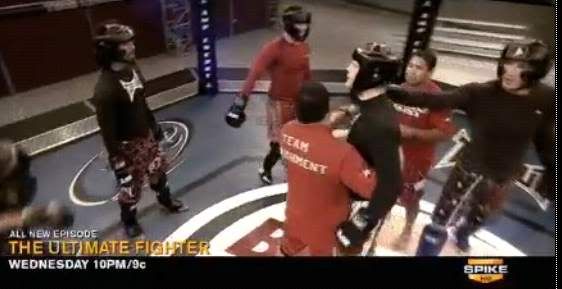 Fourteen fighters survived the elimination round and now has entered the house.
In TUF 11 episode 2, we see who Tito Ortiz and Chuck Liddell selected as their fighters.
With a coin flip, Tito gets to select the first fighter while Chuck the first fight. After all fighters have their own teams, Tito and even UFC President Dana WHite question Chuck's picks noticing how short most of them were.
To which Chuck just shrugged,
"I looked at their records online."
The season's first prank is pulled off by Kris McCray, Jamie Yager and Brad Tavares as they sounded off the air horns at 3:00 AM to their companion's dismay especially Clayton McKinney who happens to be in the first fight against Team Liddell's Kyle Noke.
The result? Noke wins by submission (triangle choke) at 2:34 of Round 1.
In The Ultimate Fighter Season 11 Episode 3, Yager seems to be at the heat of things as tensions arise in the Team Punishment camp. Meanwhile, Dana White brings the news that one cast member is leaving.
Who will it be?
TUF s11e03 is titled A Lotta Heart to be shown at Spike TV on April 14, 2010
Here's the TUF 11 Episode 3 video:
Please download the video in the following links:
http://www.megaupload.com/?d=MVB6M0W1
http://www.megaupload.com/?d=3Z8AKRL0
http://hotfile.com/dl/37982615/36907cf/aaf-tuf.s11e03.avi.html
Watch The Ultimate Fighter Season 11 Episode 4 next on April 21, 2010.
Check out the other The Ultimate Fighter Season 11 episodes as well.
If you want to receive my latest posts, please
subscribe to my full feed RSS
or have them delivered through email. Just enter your email address below and hit the Subscribe button.
Tags: chuck liddell, tito ortiz, TUF season 11
3 Responses to "TUF 11 Episode 3: A Lotta Heart"
Leave a Reply