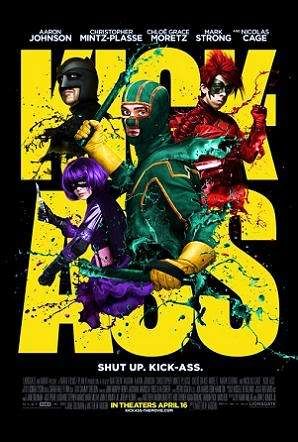 Kick-Ass is not your typical superhero film.
The main protagonist does not really possess any power, let alone super powers.
The film has also been rated R for strong brutal violence throughout, pervasive language, sexual content, nudity and some drug use – some involving children.
I have seen the Kick-Ass movie trailer and the violence is somewhere along the line of Kill Bill.
The movie stars Nicolas Cage, Aaron Johnson and Chloe Moretz. It is directed by Matthew Vaughn and co-produced by Vaughn and Brad Pitt.
Kick-Ass is actually based on the comic book of the same name by Mark Millar and John Romita, Jr.
SYNOPSIS:
Kick-Ass tells the story of average teenager Dave Lizewski (Aaron Johnson), a comic-book fanboy who decides to take his obsession as inspiration to become a real-life superhero. As any good superhero would, he chooses a new name — Kick-Ass — assembles a suit and mask to wear, and gets to work fighting crime. There's only one problem standing in his way: Kick-Ass has absolutely no superpowers.

His life is forever changed as he inspires a subculture of copy cats, is hunted by assorted violent and unpleasant characters, and meets up with a pair of crazed vigilantes, including an 11-year-old sword-wielding dynamo, Hit Girl (Chloe Moretz) and her father, Big Daddy (Nicolas Cage).
To watch Kick-Ass online free, click the PLAY button above.
Ass kicking begins on April 16, 2010.
Remember:
"With no power comes no responsibility."
If you want to receive my latest posts, please
subscribe to my full feed RSS
or have them delivered through email. Just enter your email address below and hit the Subscribe button.
Tags: kick-ass, movie, nicolas cage, trailers
7 Responses to "Shut Up. Kick-Ass."
Leave a Reply