UFC 115 | Big Ben Decisions The Hurricane
Category:
MMA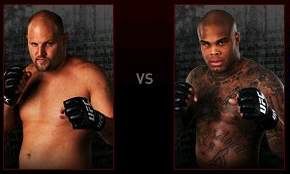 One of the undercards for UFC 115 is a battle between two heavyweights who had just lost their respective UFC debuts.
"Big" Ben Rothwell (30 wins-7 losses, 13 KOs / 11 submissions) is ranked in the top 15 in the world by Sherdog in the heavyweight division.
His Octagon debut was at UFC 104 last October 24, 2009 where he lost to Cain Velasquez via TKO in the 2nd Round.
Gilbert "The Hurricane" Yvel (36 wins-14 losses, 31 KOs / 5 submissions) was one of the first Dutch fighters who successfully applied the Muay Thai striking style to MMA. Yvel has acquired, through a number of instances, a lingering reputation in the MMA community for his temper and poor sportsmanship in the ring.
His Octagon debut was at UFC 108 last January 2, 2010 where he lost to Junior dos Santos via TKO in the 1st Round.
Two consecutive losses in the UFC will spell doom with either of them.
What do you think the UFC 115 results will be?
Watch UFC 115 LIVE stream FREE via Justin TV or Sopcast on Saturday, June 12, 2010 – 7PM PT / 10PM ET / 3AM BST at the General Motors Place in Vancouver, British Columbia, Canada.
The UFC 115 replay immediately follows.
=======================================================
UPDATE: Rothwell defeated Yvel via unanimous decision. (30-27, 29-28, 29-28).
Here's the Ben Rothwell vs Gilbert Yvel video:
video option 1
video option 2
Check out the other UFC 115 videos from the UFC 115 fight card:
Chuck Liddell vs Rich Franklin video
Mirko Cro Cop vs Patrick Barry video
Paulo Thiago vs Martin Kampmann video
Carlos Condit vs Rory MacDonald video
Tyson Griffin vs Evan Dunham video
If you want to receive my latest posts, please
subscribe to my full feed RSS
or have them delivered through email. Just enter your email address below and hit the Subscribe button.
Tags: ben rothwell, gilbert yvel, UFC 115
Leave a Reply