UFC 115 | The Natural Born Killer KOs The Waterboy
Category:
MMA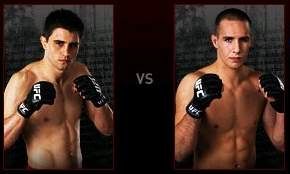 Carlos "Natural Born Killer" Condit (24 wins-5 losses, 10 KOs / 13 submissions) formerly fought in the UFC's sister promotion, World Extreme Cagefighting (WEC), where he was the final WEC welterweight champion and also competed for Pancrase. He holds notable wins over Frank Trigg, Brock Larson, and Renato Verissimo. He is currently ranked the #11 welterweight in the world by Sherdog.
His last fight was at UFC Fight Night 19 last September 16, 2009 where he won against Jake Ellenberger via Split Decision.
Rory "The Waterboy" MacDonald (10 wins-0 losses, 4 KOs / 6 submissions) is undefeated fighter who holds MMA lightweight titles with King of the Cage and King of the Cage Canada. He made his Octagon debut at UFC Fight Night 20 against Mike Guymon, winning the fight via submission (armbar) in the first round.
Watch UFC 115 LIVE stream FREE via Justin TV or Sopcast on Saturday, June 12, 2010 – 7PM PT / 10PM ET / 3AM BST at the General Motors Place in Vancouver, British Columbia, Canada.
The UFC 115 replay immediately follows.
=======================================================
UPDATE: Condit defeated MacDonald via TKO (strikes) at 4:53 of round 3
Here's the Carlos Condit vs Rory MacDonald video:
[ad name="textimage_beforeposts"]
Check out the other UFC 115 videos from the UFC 115 fight card:
Chuck Liddell vs Rich Franklin video
Mirko Cro Cop vs Patrick Barry video
Paulo Thiago vs Martin Kampmann video
Ben Rothwell vs Gilbert Yvel video
Tyson Griffin vs Evan Dunham video
If you want to receive my latest posts, please
subscribe to my full feed RSS
or have them delivered through email. Just enter your email address below and hit the Subscribe button.
Tags: carlos condit, rory macdonald, UFC 115
Leave a Reply