Meet Zakumi, the 2010 FIFA World Cup Mascot
Category:
News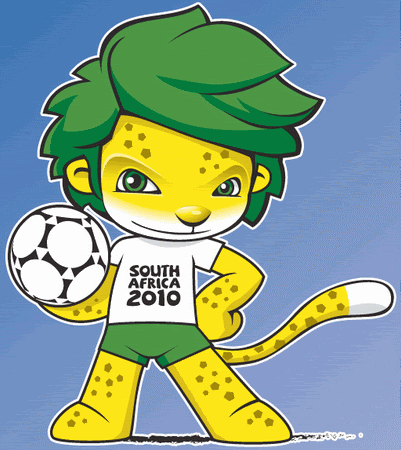 The 19th rendition of the greatest sporting event in the world, the World Cup officially named as the 2010 FIFA World Cup is being held in South Africa from June 11 – July 11, 2010.
It is the first time that the finals of the tournament have been staged in an African host nation. It's now wonder then that the football matches are filled with the sounds of the vuvuzela and that the mascot is an animal native to South Africa, the leopard.
Meet Zakumi, the 2010 FIFA World Cup mascot.
Zakumi is a cheerful and sporty leopard with green hair, presented on 22 September 2008. His name comes from "ZA", the ISO 3166-1 alpha-2 code for South Africa, and "kumi", a word that means ten in several African languages, referencing the year 2010.
Zakumi is a jolly, self-confident, adventurous, spontaneous, and actually quite shrewd little fellow. He loves to perform and always follows his instinct and intuition, yet sometimes has the tendency to exaggerate a bit. He is often found fooling about and teasing people but not in a mean way. He is warm-hearted and caring, and wants to make as many friends as possible.
His motto is, "Zakumi's game is Fair Play."
Watch the 2010 FIFA World Cup from June 11 – July 11, 2010.
The final match will be held at the Soccer City Stadium in Johannesburg, South Africa on July 11 between Spain and Netherlands.
Germany and Uruguay meanwhile will battle it our for third place on July 10 at the Nelson Mandela Bay Stadium, Port Elizabeth, South Africa.
Reference: Wikipedia
If you want to receive my latest posts, please
subscribe to my full feed RSS
or have them delivered through email. Just enter your email address below and hit the Subscribe button.
Tags: 2010 FIFA World Cup, mascot, zakumi
6 Responses to "Meet Zakumi, the 2010 FIFA World Cup Mascot"
Leave a Reply