UFC 117: Silva vs Sonnen, UFC Comes to Oakland
Category:
MMA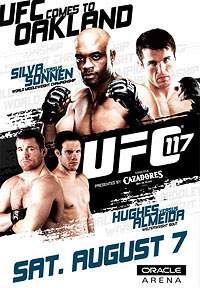 The best middleweight fighter in the UFC and ranked as one of the top pound for pound fighters in the world today returns to headline UFC 117: Silva vs Sonnen on August 7, 2010 at the Oracle Arena in Oakland, California, USA.
However, this might be Anderson "The Spider" Silva's last fight inside the Octagon if and only if he don't get his act straight.
After he dominated Demian Maia at UFC 112 in Abu Dhabi, many criticized Silva for his performance which was more like clowning than fighting.
UFC President Dana White was seething with anger and threatened to cut him from the organization if he does it again.
He will face Chael Sonnen who has been trash-talking him during the build up to the fight.
Check out the official UFC 117 fight card and UFC 117 results which will updated as each matchup progress.
If you have the money, you can watch UFC 117 LIVE via pay-per-view on Saturday, August 7, 2010 – 7PM PT / 10PM ET / 3AM BST through Yahoo! Sports or at the UFC 117 web site. Charge starts at $44.99.
However, if you can't see it on TV, you can watch UFC 117 online FREE on streaming sites like Justin TV, Freedocast, LiveStream and UStream. You just have to look for them patiently.
You can also watch it on your favorite Sopcast channel.
=======================================================
UPDATE: UFC 117 has wrapped up!
Watch the UFC 117 post fight press conference from the link below:
[ad name="image_afterpost"]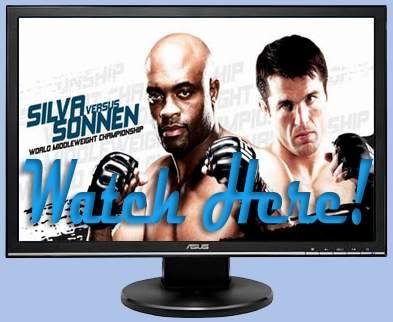 If you failed to see UFC 117 live stream, check out the UFC 117 replay.
You can also check out the following UFC 117 videos once available:
Anderson Silva vs Chael Sonnen video
Jon Fitch vs Thiago Alves video
Clay Guida vs Rafael Dos Anjos video
Matt Hughes vs Ricardo Almeida video
Roy Nelson vs Junior Dos Santos video
If you want to receive my latest posts, please
subscribe to my full feed RSS
or have them delivered through email. Just enter your email address below and hit the Subscribe button.
Tags: anderson silva, chael sonnen, clay guida, jon fitch, junior dos santos, matt hughes, rafael dos anjos, ricardo almeida, roy nelson, thiago alves, UFC 117
Leave a Reply