StarCraft II: Wings of Liberty Download
Category:
Computers
A week from now, Starcraft II: Wings of Liberty will finally be released for gamers all over the world.
But do you know that you can already download the game right now?
However, you still have to wait until Starcraft 2's release date before you can actually play the game.
Huh? If I can't play the game yet, why would I download it?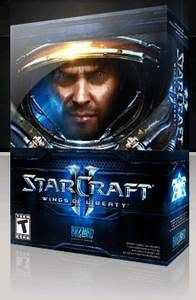 As one of the most anticipated video games ever, I'm sure there will be a rush of gamers trying to download their online copy of the game on that day.
The download server might even crash due to the sheer amount of traffic leaving you sitting there and waiting while your friends are already perfecting their Terran, Protoss or Zerg builds.
So why wait?
Download Starcraft 2 by clicking the box.
Check out the system requirements needed to run the game as well.
Check out the StarCraft 2 cheats for PC.
Check out below for an in-depth guide teaching you how to master the top strategies and play the styles of Terran, Protoss, and Zerg to earn your way to #1 rank Diamond.
If you want to receive my latest posts, please
subscribe to my full feed RSS
or have them delivered through email. Just enter your email address below and hit the Subscribe button.
Tags: battle.net, blizzard, games, starcraft 2, video games
8 Responses to "StarCraft II: Wings of Liberty Download"
Leave a Reply