Cats & Dogs, Just Like Real Spies… Only Furrier
Category:
Entertainment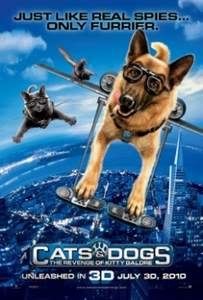 Yes, just like Evelyn Salt, cats and dogs can be spies too.
A huge box-office hit getting more than $200 million in gross revenue, the original 2001 movie Cats & Dogs looks to make another run with its sequel, Cats & Dogs 2: The Revenge of Kitty Galore.
However, the actors who did the voices for the first movie will not be returning this time.
Some who lend their voices to the cats and dogs are Christina Applegate, Michael Clarke Duncan, Neil Patrick Harris,James Marsden Bette Midler, Nick Nolte and Chris O' Donnell.
PLOT (Wikipedia):
Kitty Galore (Bette Midler), a hairless Sphynx cat, is fed up with dogs and her fellow cat comrades, so she decides to take over the world and enslave the humans. Diggs (James Marsden), a German Shepherd police dog, and his mentor, Butch (Nick Nolte), are selected by the Dogs HQ spy force to stop her. Having no other option to stop Kitty Galore, the cats join forces with the dogs with additional support from a pigeon to stop Galore's evil scheme. Meanwhile, Kitty Galore gains the aid of the mice (One of them is also seen as her pet) and Mr. Tinkles (Sean Hayes), the antagonist from the first movie. Cats and dogs must now work together to save the world, and their humans.
Cats & Dogs 2: The Revenge of Kitty Galore is directed by Brad Peyton and produced by Polly Cohen with a budget of $85 million.
To watch Cats & Dogs 2: The Revenge of Kitty Galore online free on megavideo, click the PLAY butoon above.
Cats & Dogs 2: The Revenge of Kitty Galore was released on both conventional and IMAX theaters on July 30, 2010 worldwide by Warner Bros. Pictures.
If you want to receive my latest posts, please
subscribe to my full feed RSS
or have them delivered through email. Just enter your email address below and hit the Subscribe button.
Tags: cats and dogs 2, movie
2 Responses to "Cats & Dogs, Just Like Real Spies… Only Furrier"
Leave a Reply