HBO Boxing After Dark | Devon Alexander vs Andriy Kotelnik
Category:
Boxing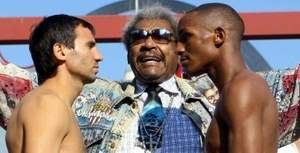 HBO Boxing After Dark presents current WBC and IBF Light Welterweight champion, Devon Alexander in a title defense.
Set to challenge him is former WBA light welterweight champion, Andriy Kotelnik.
The bout titled "Gateway to Greatness" is scheduled on August 7, 2010 at the Scottrade Center, St. Louis, Missouri, USA.
American Devon Alexander (20-0, 13 KOs) is an undefeated boxer. His last fight was against Juan "Iron Twin" Urango where he won via 8th Round TKO.
Ukrainian Andriy Kotelnik (30-3, 13 KOs) is also the Lightweight Silver medalist at the 2000 Summer Olympics. His last fight was against Amir Khan where he lost via unanimous decision.
=======================================================
UPDATE: Devon Alexander won via Unanimous Decision!
Check out the Devon Alexander vs Andriy Kotelnik fight video below:
Round 1
Rounds 2 and 3
Rounds 4 and 5
Rounds 7 and 8
Rounds 9 and 10
Rounds 11 and 12
Thanks to tomboy2jz for the videos.
If you want to receive my latest posts, please
subscribe to my full feed RSS
or have them delivered through email. Just enter your email address below and hit the Subscribe button.
Tags: andriy kotelnik, devon alexander, HBO, HBO after dark
Leave a Reply