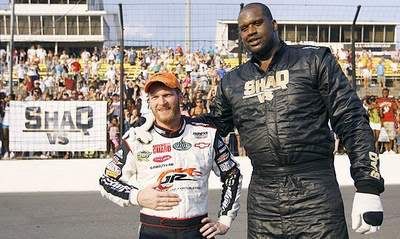 In the first episode of Shaq VS Season 2, Shaquille O'Neal will compete with NASCAR's Most Popular Driver Dale Earnhardt Jr, in a head-to-head NASCAR race at Concord Speedway, North Carolina, USA.
Can Shaq even squeeze his 7-foot-1, 325-pound frame into a stock car?
Shaq will also square off with Kavya Shivashankar, the 2009 winner of the Scripps National Spelling Bee.
Shaq only knows words that begin with shaq so I think we will see Shivashankar as the runaway winner here.
ShaqVS Season 2 premieres on August 3, 2010 at 9:00 PM on ABC.
Check out what happens in the Shaq VS Season 2 Episode 1 video below:
Watch Shaq VS Season 2 Episode 2 next on August 10, 2010.
Check out the other Shaq VS Season 2 episodes as well.
If you want to receive my latest posts, please
subscribe to my full feed RSS
or have them delivered through email. Just enter your email address below and hit the Subscribe button.
Tags: dale earnhardt jr., kavya shivashankar, shaq vs, shaquille o'neal
Leave a Reply