UFC 117 | Anderson Silva vs Chael Sonnen
Category:
MMA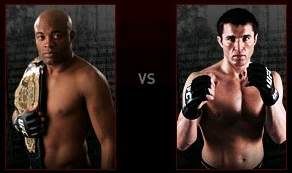 In the main event of UFC 117: Silva vs Sonnen, the best middleweight fighter in the UFC and ranked as one of the top pound for pound fighters in the world today returns to defend his UFC Middleweight title.
However, this might as well be his last fight inside the Octagon if he continues giving performances that looks more like clowning than fighting.
Although he won via Unanimous Decision, his constant mockery and taunting of Demian Maia at UFC 112 in Abu Dhabi was criticized. During the fight, the crowd began to side with Maia, who was the only fighter attempting to engage.
This was not the first time Silva done this act as similar incidents happened at UFC 90 with Patrick Cote and at UFC 97 with Thales Leites.
Greatly embarrassed, UFC President Dana White has already gave him an ultimatum: he will cut The Spider from the organization if he does it again!
On August 7, 2010 at the Oracle Arena in Oakland, California, USA, Silva is given the chance to redeem himself
He will face Chael Sonnen who have been trash-talking him since the promotion for the event started.
Brazilian Anderson Silva (26 wins-4 losses, 15 KOs/4 submissions) has been the UFC Middleweight Champion since 1996 and he is also the last Cage Rage Middleweight Champion and former Shooto Middleweight Champion.
With 12 consecutive wins, Silva holds the longest active winning streak in the UFC and the record for the longest winning streak in UFC history.
American Chael Sonnen (24 wins-10 losses, 7 KOs/3 submissions) is currently ranked as the #2 middleweight in the world by Sherdog.com.
He holds notable wins over former WEC champion Paulo Filho, former King of Pancrase Nate Marquardt, Dan Miller, Jason Miller, Trevor Prangley, former WEC champion Jason Lambert and Yushin Okami.
His last fight was at UFC 109 where he defeated Nate Marquardt via Unanimous Decision.
Sonnen is also a politician, having ran for State Representative in Oregon's House District 37 as a Republican.
My prediction?
Very few remember when was the last time Silva lost a fight. They can't be blamed since it was last January 20, 2006 against Yushin Okami when he was still peddling his trade outside the UFC. That was a long time ago.
Nowadays, he is virtually untouchable racking up 12 consecutive wins beating guys like Rich Franklin, Dan Henderson, Chris Leben, Nate Marquardt and Forrest Griffin.
Although known primarily for his mastery of Muay Thai elbow and knee strikes, in addition to surgically precise punches and kicks, Silva is also a Brazilian Jiu-Jitsu blackbelt.
Sonnen meanwhile is an excellent wrestler. His strength lies in the ground but he has solid stand up as well. He is a tactical fighter content with racking up points to win by decision, seldom finishing his bouts.
If he can take down Silva and work on a submission, he might be at an advantage. That is, if he can catch The Spider at all.
I predict a TKO win in the 2nd Round for Anderson Silva here.
Watch UFC 117 online FREE on Justin TV or your favorite Sopcast channel this Saturday, August 7, 2010 at the Oracle Arena in Oakland, California, USA.
The replay immediately follows if you happened to miss the UFC 117 LIVE stream.
=======================================================
UPDATE: UFC 117 has wrapped up! Check out the UFC 117 results to know who won!
The Anderson Silva vs Chael Sonnen fight video is posted in the link below: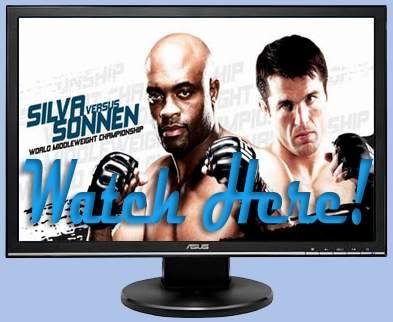 Check out the other UFC 117 videos from the fight card:
Jon Fitch vs Thiago Alves video
Clay Guida vs Rafael Dos Anjos video
Matt Hughes vs Ricardo Almeida video
Roy Nelson vs Junior Dos Santos video
If you want to receive my latest posts, please
subscribe to my full feed RSS
or have them delivered through email. Just enter your email address below and hit the Subscribe button.
Tags: anderson silva, chael sonnen, UFC 117
5 Responses to "UFC 117 | Anderson Silva vs Chael Sonnen"
Leave a Reply