UFC 117 | Clay Guida vs Rafael Dos Anjos
Category:
MMA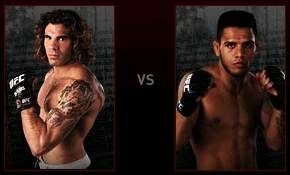 In the main card of UFC 117: Silva vs Sonnen, Clay Guida and Rafael Dos Anjos will clash.
American Clay "The Carpenter" Guida (26 wins-11 losses, 4 KOs/13 submissions) was the first Strikeforce Lightweight Champion and held the title until being defeated by Gilbert Melendez at Strikeforce: Revenge.
His last fight was at UFC Live: Vera vs. Jones where he submitted Shannon Gugerty via Arm Triangle Choke and was named as Submission of the Night.
Brazilian Rafael Dos Anjos (14 wins-4 losses, 1 KO/7 submissions) has racked up three straight wins inside the Octagon after losing his first two.
His last fight was at UFC 112 where he submitted Terry Etim via armbar and was named as Submission of the Night.
Watch UFC 117 online FREE on Justin TV or your favorite Sopcast channel this Saturday, August 7, 2010 at the Oracle Arena in Oakland, California, USA.
The replay immediately follows if you happened to miss the UFC 117 LIVE stream.
=======================================================
UPDATE: UFC 117 has wrapped up! Check out the UFC 117 results to know who won!
The Clay Guida vs Rafael Dos Anjos fight video is posted in the link below:
[ad name="image_afterpost"]
Check out the other UFC 117 videos from the fight card:
Anderson Silva vs Chael Sonnen video
Jon Fitch vs Thiago Alves video
Matt Hughes vs Ricardo Almeida video
Roy Nelson vs Junior Dos Santos video
If you want to receive my latest posts, please
subscribe to my full feed RSS
or have them delivered through email. Just enter your email address below and hit the Subscribe button.
Tags: clay guida, rafael dos anjos, UFC 117
Leave a Reply