UFC 117 | Jon Fitch vs Thiago Alves
Category:
MMA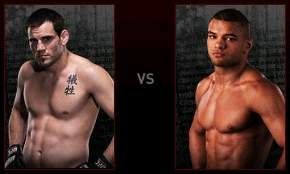 In the co-main event of UFC 117: Silva vs Sonnen, two of the best welterweight fighters in the world finally meets in a rematch.
Jon Fitch and Thiago "Pitbull" Alves first met at UFC Ultimate Fight Night 5 won by Fitch when he knocked-out Alves in the 2nd Round.
Four years later on August 7, 2010 at the Oracle Arena in Oakland, California, USA the two meets in a grudge match to determine the challenger to Georges St-Pierre's UFC welterweight championship title.
Incidentally, both were already beaten by GSP; Fitch at UFC 87 and Alves at UFC 100.
American Jon Fitch (22 wins-3 losses, 4 KOs/5 submissions) is ranked as the #2 welterweight in the world. He was in the record books as being tied with Anderson Silva and Royce Gracie for most consecutive wins in the UFC, which was 8. Anderson Silva has since set a new record with 12 consecutive wins.
After losing to GSP, he has now racked-up four consecutive wins with his last one coming via Unanimous Decision over Ben Saunders at UFC 111.
Brazilian Thiago Alves (16 wins-6 losses, 10 KOs/1 submission) is currently ranked as the #3 welterweight in the world. He was MMAWeekly.com's 2008 Fighter of the Year after dominating Matt Hughes, Josh Koscheck and Karo Parisyan.
His loss to GSP was his last fight as he suffered a knee surgery afterward and was recuperating for the year.
Fitch is a a wrestler not known to be a finisher and will be contented to leave it out to the judges. Alves meanwhile is an explosive fighter described as a "Muay Thai wrecking machine".
If Fitch can take down Alves over and over again like what GSP did, he will be able to pull off a Unanimous Decision win. Otherwise, it will be lights out for him.
I predict a TKO win in the 2nd Round for The Pitbull here.
Watch UFC 117 online FREE on Justin TV or your favorite Sopcast channel this Saturday, August 7, 2010 at the Oracle Arena in Oakland, California, USA.
The replay immediately follows if you happened to miss the UFC 117 LIVE stream.
=======================================================
UPDATE: UFC 117 has wrapped up! Check out the UFC 117 results to know who won!
The Jon Fitch vs Thiago Alves fight video is posted in the link below:
[ad name="image_afterpost"]
Check out the other UFC 117 videos from the fight card:
Anderson Silva vs Chael Sonnen video
Clay Guida vs Rafael Dos Anjos video
Matt Hughes vs Ricardo Almeida video
Roy Nelson vs Junior Dos Santos video
If you want to receive my latest posts, please
subscribe to my full feed RSS
or have them delivered through email. Just enter your email address below and hit the Subscribe button.
Tags: jon fitch, thiago alves, UFC 117
Leave a Reply