UFC 117 | Matt Hughes vs Ricardo Almeida
Category:
MMA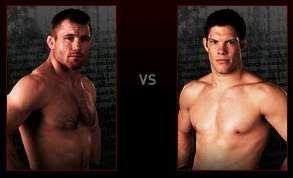 One of the most dominant UFC fighters ever and inducted into the UFC Hall of Fame on May 2010, former two-time UFC Welterweight Champion Matt Hughes returns to continue his path towards regaining the title.
At UFC 117: Silva vs Sonnen, Hughes faces Ricardo "Big Dog" Almeida; Renzo Gracie's student whom he beat at UFC 112.
The event is scheduled on August 7, 2010 at the Oracle Arena in Oakland, California, USA.
American Matt Hughes (44 wins-7 losses, 15 KOs/19 submissions) is one of the most complete MMA fighters ever having shown the ability to finish fights stand-up or on the ground. Only 10 of his fights managed to go the distance and most of them, he won unanimously.
He is a former two-time UFC Welterweight Champion, has put together two separate six-fight winning streaks in the UFC, has defended the welterweight belt a record seven times and and holds the record for most wins in the UFC with 17.
Brazilian Ricardo Almeida (12 wins-3 losses, 4 submissions) is a Renzo Gracie protegee hoping to avenge his master's loss to Hughes.
My prediction?
You can't count out Hughes yet. He has been winning for years with his versatility. I can't see how Almeida can win over him.
I predict a submission win in the 3rd Round for Math Hughes here.
Watch UFC 117 online FREE on Justin TV or your favorite Sopcast channel this Saturday, August 7, 2010 at the Oracle Arena in Oakland, California, USA.
The replay immediately follows if you happened to miss the UFC 117 LIVE stream.
=======================================================
UPDATE: UFC 117 has wrapped up! Check out the UFC 117 results to know who won!
The Matt Hughes vs Ricardo Almeida fight video is posted in the link below:
[ad name="image_afterpost"]
Check out the other UFC 117 videos from the fight card:
Anderson Silva vs Chael Sonnen video
Jon Fitch vs Thiago Alves video
Clay Guida vs Rafael Dos Anjos video
Roy Nelson vs Junior Dos Santos video
If you want to receive my latest posts, please
subscribe to my full feed RSS
or have them delivered through email. Just enter your email address below and hit the Subscribe button.
Tags: matt hughes, ricardo almeida, UFC 117
Leave a Reply