UFC 117 | Roy Nelson vs Junior Dos Santos
Category:
MMA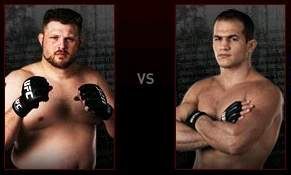 At UFC 116, Brock Lesnar successfully defended his title against Shane Carwin when he won via submission (surprised?)
In the next UFC pay-per-view event on August 7, 2010 at the Oracle Arena in Oakland, California, USA, Roy "Big Country" Nelson and Junio "Cigano" dos Santos will fight in an elimination bout to determine who will fight the winner of the Lesnar vs Velasquez set at UFC 121.
American Roy Nelson (16 wins-4 losses, 9 KOs/4 submissions) is a former International Fight League heavyweight champion. Nelson might not look like your typical mixed-martial artist due to his fat belly but proven that looks can be deceiving by winning last season's The Ultimate Fighter and earned a six-figure contract to fight in the UFC organization. He was even awarded a $25,000 bonus for delivering the Knockout of the Night.
He has a black belt on Brazilian Jiu Jitsu under Renzo Gracie and has good boxing skills. But its in the ground where he makes his living. He uses his belly to pin opponents to the ground in a crucifix position and pound them. This was effectively utilized against Kimbo Slice and James McSweeney.
In his first two fights inside the Octagon, he showed that he has knockout power as well putting Brendan Schaub and Stefan Struve to sleep in just the 1st Round.
Dos Santos (11 wins-1 loss, 8 KOs/3 submissions) is a Brazilian Jiu-Jitsu practitioner under Antonio Rodrigo Nogueira and Demian Maia, and currently holds a brown belt. Santos has also competed as a kickboxer, earning an undefeated record of 18-0 in that sport. He currently reigns as the Brazilian heavyweight kickboxing champion.
He possess knockout power as well as his last two fights were via KO: to Gilbert Yvel at UFC 108 and Gabriel Gonzaga at UFC Live: Vera vs Jones.
My prediction?
Nelson and Dos Santos both are excellent strikers.
I think we will see a slugfest here; where Dos Santos has the upper hand.
But if Nelson can bring the fight to the ground, it will be at his advantage.
Nelson is a very smart and a veteran fighter.
I predict a TKO win in the 2nd Round for The Big Country here.
Watch UFC 117 online FREE on Justin TV or your favorite Sopcast channel this Saturday, August 7, 2010 at the Oracle Arena in Oakland, California, USA.
The replay immediately follows if you happened to miss the UFC 117 LIVE stream.
=======================================================
UPDATE: UFC 117 has wrapped up! Check out the UFC 117 results to know who won!
The Roy Nelson vs Junior Dos Santos fight video is posted in the link below:
[ad name="image_afterpost"]
Check out the other UFC 117 videos from the fight card:
Anderson Silva vs Chael Sonnen video
Jon Fitch vs Thiago Alves video
Clay Guida vs Rafael Dos Anjos video
Matt Hughes vs Ricardo Almeida video
If you want to receive my latest posts, please
subscribe to my full feed RSS
or have them delivered through email. Just enter your email address below and hit the Subscribe button.
Tags: junior dos santos, roy nelson, UFC 117
Leave a Reply