Shaq is Now The Big Shamrock!
Category:
Basketball
Shaquille O'Neal has a new nickname!
No, it's not The Big Leprechaun.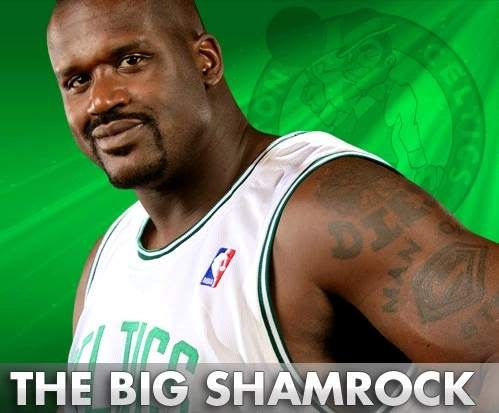 It's The Big Shamrock!
At least that's what the Boston Celtic's web site says after signing Shaq to a veteran minimum contract of $2.8 million for two years.
So, will Shaq become a good luck charm to the Celtics after losing a hard-fought seven-game series with the LA Lakers in the 2010 NBA Finals?
This remains to be seen.
Shaq has a penchant for giving himself nicknames that start with Big (except Superman, of course).
While The Big Shamrock sounds pretty cool, I still like The Big Daddy.
A frontcourt pairing of The Big Daddy and The Big Baby would be awesome!
Now, someone gets to wipe Glen Davis' mouth when he drools and spank him like KG does.
If you want to receive my latest posts, please
subscribe to my full feed RSS
or have them delivered through email. Just enter your email address below and hit the Subscribe button.
Tags: 2010 nba free agency, 2011 NBA season, big shamrock, boston celtics, cleveland cavaliers, shaquille o'neal
6 Responses to "Shaq is Now The Big Shamrock!"
Leave a Reply