WWE SummerSlam (2010) Results
Category:
Wrestling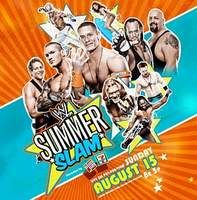 In The Biggest Event of the Summer, who will be The Biggest Star?
Can Sheamus defend his WWE Championship from John Cena?
Will Kane capture Rey Mysterio's World Heavyweight Championship title?
Who will reign supreme in the 7-on-7 Elimination Tag Team Match between Team WWE and The Nexus?
These questions will be answered at WWE's SummerSlam (2010) on August 15, 2010 at the Staples Center in Los Angeles, California, USA.
Check out the official and complete WWE SummerSlam (2010) results below:
Sheamus (c) defeated Randy Orton by disqualification
Singles Match for the WWE Championship
(If anyone interferes in the match, they will be suspended indefinitely. If Randy Orton loses, he cannot get a re-match)
John Cena wins!
Team WWE (John Cena, John Morrison, R-Truth, Bret Hart, Edge, Chris Jericho and TBA) vs The Nexus (Wade Barrett, David Otunga, Justin Gabriel, Heath Slater, Darren Young, Skip Sheffield and Michael Tarver)
7-on-7 Elimination Tag Team Match
Kane (c) defeated Rey Mysterio
Singles Match for the World Heavyweight Championship
The Big Show defeated The Straight Edge Society (CM Punk, Joey Mercury and Luke Gallows)
3-on-1 Handicap Match
Melina defeated Alicia Fox (c)
Singles Match for the WWE Divas Championship
Dolph Ziggler (c) vs Kofi Kingston ended in a no contest
Singles Match for the WWE Intercontinental Championship
If you missed it on Justin TV or Sopcast, watch the WWE SummerSlam (2010) replay highlights right after the show.
If you want to receive my latest posts, please
subscribe to my full feed RSS
or have them delivered through email. Just enter your email address below and hit the Subscribe button.
Tags: summerslam, WWE
Leave a Reply