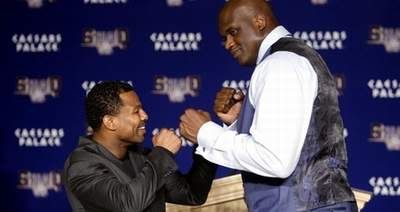 Season 2 of Shaq VS premiered last week with the NBA superstar taking on NASCAR's Most Popular Driver, Dale Earnhardt Jr, in a head-to-head NASCAR race and 2009 Scripps National Spelling Bee champion, Kavya Shivashankar in a spelling contest.
Despite claiming that he have never lost, he kept his losing streak alive. He lost all his challenges last season.
The season premiere last August 3 on ABC kicked off with the spelling contest against Shivashankar.
Shaq was allowed twice to ask his teammates for help which he used. With no one to help him, he failed to spell "distinguo".
I bet you can't spell it too.
The race with Earnhardt Jr. didn't go well as well. He raced twice with the NASCAR driver and despite being given one lap up in the first race and Dale getting two pit stops in the second race, he lost.
Well, what do you expect? It's Shaq's first time to race at NASCAR after all.
In the next episode on August 10, 2010, Shaq will challenge Shane Mosley in a boxing match reminiscent of last season's challenge with Oscar dela Hoya. By his ringside will be  Manny Pacquiao's coach, Freddie Roach.
Also: the big man attempts some hocus-pocus with magicians Penn and Teller.
Check out what happens in the Shaq VS Season 2 Episode 2 video below:
Watch Shaq VS Season 2 Episode 3 next on August 17, 2010.
Check out the other Shaq VS Season 2 episodes as well.
If you want to receive my latest posts, please
subscribe to my full feed RSS
or have them delivered through email. Just enter your email address below and hit the Subscribe button.
Tags: penn and teller, shane mosley, shaq vs, shaquille o'neal
3 Responses to "Shaq vs Shane Mosley / Penn and Teller"
Leave a Reply