Strikeforce Houston: King Mo vs Feijao
Category:
MMA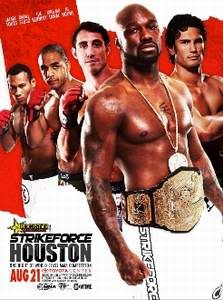 It was one of the most shocking moments in mixed-martial arts history when Fabricio Werdum submitted Fedor Emelianenko at Strikeforce: Fedor vs Werdum last June 26, 2010.
Hoping to follow-up on the success of that event, the organization is holding another one on August 21, 2010 at Toyota Center in Houston, Texas, USA.
Strikeforce: Houston features Muhammed "King Mo" Lawal defending his Strikeforce Light Heavyweight Championship crown against top contender Rafael "Feijão" Cavalcante in the main event.
The co-main event also features another title up for grabs with Ronaldo Souza and Tim Kennedy fighting for it after Jake Shields vacated the Strikeforce Middleweight Championship to peddle his trade with the Ultimate Fighting Championship set to debut at UFC 121.
Here's the official fight card:
Main Card
* Light Heavyweight Championship bout: Muhammed Lawal (c) vs Rafael Cavalcante
* Middleweight Championship bout: Ronaldo Souza vs Tim Kennedy
* Lightweight bout: KJ Noons vs Jorge Gurgel
* Heavyweight bout: Bobby Lashley vs Chad Griggs
Preliminary Card (Sherdog.com Live Stream)
* Heavyweight bout: Daniel Cormier vs Jason Riley
* Welterweight bout: André Galvão vs Jorge Patino
Preliminary Card
* Lightweight bout: Vinicius Magalhães vs Rocky Long
* Lightweight bout: Adam Schindler vs Kier Gooch
* Lightweight bout: Jose Santibanez vs Reynaldo Trujillo
* Bantanweight bout: Chad Robichaux vs Humberto Deleon
* Light Heavyweight bout: Chad Cook vs Arteneus Young
This MMA event will be aired LIVE on network television at Showtime in the USA and on Super Channel in Canada on August 21, 2010. The LIVE show will start at 10 PM ET/7 PM PT / 3AM BST . The unaired prelims will start at 5:00 PM.
However, if you can't watch it on TV, several sites will actually offer it for free like Justin TV, Freedocast, LiveStream and UStream. Two of the preliminary cards will be even shown at Sherdog.
You can also watch Strikeforce: Houston using your favorite Sopcast channel.
=======================================================
UPDATE: Strikeforce: Houston has wrapped up!
If you failed to watch Strikeforce: Houston live stream online free, check out the official results and replay highlights below:
[ad name="textimage_beforeposts"]
You can also watch the Muhammed Lawal vs Rafael Cavalcante video.
If you want to receive my latest posts, please
subscribe to my full feed RSS
or have them delivered through email. Just enter your email address below and hit the Subscribe button.
Tags: bobby lashley, muhammed lawal, rafael cavalcante, ronaldo souza, strikeforce, tim kennedy
Leave a Reply