Shaq Unveils New Jersey Number for the Celtics
Category:
Basketball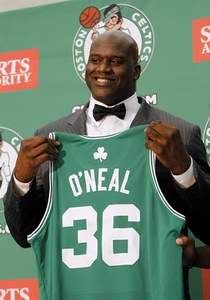 The Celtics had a press conference Tuesday morning at the team's practice facility in Waltham, Massachusetts; 10 miles of downtown Boston to introduce their newest acquisition, The Big Shamrock!
Shaquille O'Neal was signed last week as a free agent for a two-year contract worth $2.8 million.
That's dirty cheap for a player albeit old who can still give you 10 points and 7 rebounds per game and give opposing big men trouble at the defensive end.
After starting in 1,161 of the 1,170 games he's played over 18 seasons for the Orlando Magic, LA Lakers, Miami Heat, Phoenix Suns and Cleveland Cavaliers, Shaq might come off the bench full-time for the first time in his career. Jermaine O'Neal who was also newly acquired might play the starting center until Kendrick Perkins returns in February as he recuperates from a knee surgery suffered at Game 6 of the 2010 NBA Finals.
At the press conference, coach Doc Rivers said,
I had to be extremely honest with him. I told him there were not 30 minutes on this team. There would be 20 or 25 minutes and I asked him if that would be OK. That's the only way it's going to work. We talked about coming off the bench. I think it's very important when you get a guy like Shaq to be up front and honest and where you see him possibly being with your team.
There seems to be no problem with Shaq on his diminished role,
I realize I'm much older now.

This team is a good team, with or without me. Sometimes in order to win, you have to sacrifice and I don't mind sacrificing because at the end of the day, it's all about winning. When I was that guy, I did everything I was supposed to do, and all of that is documented. Now, it's not about that. It's about coming to a team that needs one or two pieces.

I'm just glad to be with a winning team. I've done everything individually that I set out to do. Now, towards the latter part of my career, it's all about winning. When I came in, I always wanted to compete with Bill Russell for titles. That's not going to happen, but I'd like to get about half of what he's got.
I think this is good for Shaq. Now at the twilight of his career and not anymore the dominant force that he used to be, people will have less expectations from him and therefore, he will not be pressured to do something he can't anymore.
Remember Bill Walton who played for the Boston Celtics at the twilight of his career during the 1984-85 season and provided a reliable backup to Robert Parish and Kevin McHale. He even won the Sixth Man of the Year and more important than that? The team won the NBA championship that same season.
At the press conference, Shaq also unveiled his new jersey number: 36. He chose it because he has always worn a number in the 30's and he will be playing in his sixth (and hopefully last) team.
Check out the full press conference video below. Last year's with the Cleveland Cavaliers was definitely funnier when then General Manager Danny Ferry was shaq'd!
Thanks to Sports of Boston for the video.
If you want to receive my latest posts, please
subscribe to my full feed RSS
or have them delivered through email. Just enter your email address below and hit the Subscribe button.
Tags: 2010 nba free agency, 2011 NBA season, big shamrock, boston celtics, shaquille o'neal
Leave a Reply