The Expendables: Heroes Today, Legends Forever
Category:
Entertainment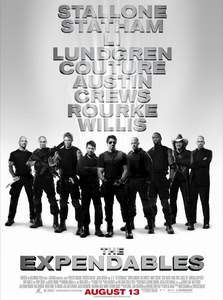 The Expendables is a can't miss testosterone-filled movie.
Its all-star ensemble consist of Sylvester Stallone, Arnold Schwarzenegger, Jason Statham, Jet Li, Dolph Lundgren, Randy Couture, Steve Austin, Terry Crews, Mickey Rourke and Bruce Willis.
If you don't consider that as impressive, I don't know what is.
For the first time ever, three of the biggest Hollywood action stars in Stallone, Schwarzenegger and Willis will be featured in one scene in the movie to set up the film's plot.
Stallone plays as Barney Ross, the leader of the Expendables; Willis as Mr. Church, the man who hires the Expendables and Schwarzenegger as Trench, the former leader of the original Expendables.
PLOT (Wikipedia):
A team of elite, highly-trained mercenaries known as The Expendables are sent into South America  to overthrow a ruthless cold-blooded dictator. But once the mission begins, they discover a plot far more sinister than they were led to believe. With innocent lives in the balance, The Expendables are forced to take on an even more difficult challenge.
The Expendables is directed and written by Sylvester Stallone himself and produced by Avi Lerner for a budget of $80 million.
To watch The Expendables online free on megavideo, click the PLAY button above.
The Expendables is scheduled to be released on theaters on August 13, 2010 worldwide by Lionsgate.
Check out the The Expendables movie quotes as well.
If you want to receive my latest posts, please
subscribe to my full feed RSS
or have them delivered through email. Just enter your email address below and hit the Subscribe button.
Tags: movie, the expendables
4 Responses to "The Expendables: Heroes Today, Legends Forever"
Leave a Reply