UFC 118 | B.J. Penn vs Frankie Edgar 2 Rematch
Category:
MMA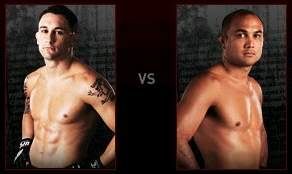 In the main event of UFC 118: Edgar vs Penn 2, the best lightweight fighter in the UFC returns to make the first defense of his UFC Lightweight title.
He will face the man whom he beat for the title, B.J. "The Prodigy" Penn.
After winning the belt, Edgar is out to prove that his UFC 112 Unanimous Decision victory over Penn was no fluke.
In the UFC 118 promotional trailer, he has these words:
They said you were going to destroy me, but didn't. What are they gonna say when I beat you again?
On August 28, 2010 at the TD Garden in Boston, Massachusetts, USA, Edgar will try to impress the critics that he really deserve the title.
American Frankie Edgar (12 wins-1 loss, 2 KOs/3 submissions) is a submission specialist who has been in three UFC Fight of the Night battles. He is currently ranked as the #1 Lightweight fighter in the world by both Sherdog and MMAWeekly. His last fight against Penn was nominated for 2010 ESPYs Upset of the Year.
American B.J. Penn (15 wins-6 losses, 6 KOs/6 submissions) is an expert Brazilian Jiu-Jitsu practitioner becoming the first non-Brazilian to win the black-belt division of the World Jiu-Jitsu Championship held in Rio de Janeiro, Brazil. He is currently ranked by Sherdog as the #2 Lightweight fighter in the world.
Penn is a former UFC Lightweight Champion and UFC Welterweight Champion and was a coach on The Ultimate Fighter 5 reality show. He became only the second fighter to win UFC titles in two different weight classes (the other being Randy Couture)
Watch UFC 118 online FREE on Justin TV or your favorite Sopcast channel this Saturday, August 28, 2010 at the TD Garden in Boston, Massachusetts, USA.
The replay immediately follows if you happened to miss the UFC 118 LIVE stream.
=======================================================
UPDATE: UFC 118 has wrapped up!
Check out the UFC 118 results to know who won.
You can also check out the BJ Penn vs Frankie Edgar 2 rematch fight video below:
Part 1
Part 2
Check out the other UFC 118 videos from the fight card:
Randy Couture vs James Toney video
Demian Maia vs Mario Miranda video
Kenny Florian vs Gray Maynard video
Nate Diaz vs Marcus Davis video
If you want to receive my latest posts, please
subscribe to my full feed RSS
or have them delivered through email. Just enter your email address below and hit the Subscribe button.
Tags: bj penn, frankie edgar, UFC 118
Leave a Reply