Here's a new easter egg from YouTube.
After entertaining (or annoying) soccer fans with the constant hum of the vuvuzela embedded in its videos during the 2010 FIFA World Cup, YouTube brings back the classic Snake game that was so popular before during the early days of cellular phones.
The instructions on how to play Snake at YouTube are given after the jump.
1. Visit YouTube.
2. Open one of the videos. Here's a good one because it has a black background and with a Mario music.
3. When the video is already playing, click on it to PAUSE it. Click again to PLAY.
4. Now, press the left arrow on your keyboard long enough (around 1 second) until the snake appears.
5. Enjoy!
Here's a screen shot if you don't believe me: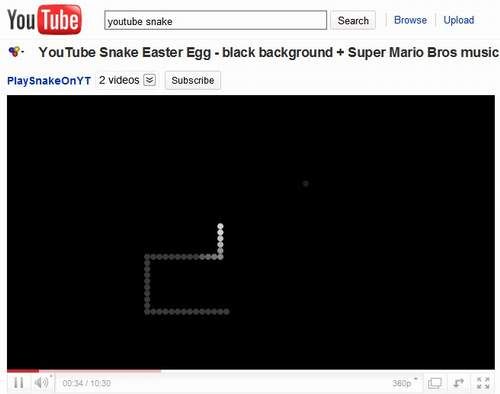 This is actually not the first time that Google integrated a video game to one of its services (YouTube is owned by Google) as during Pacman's 30th anniversary, an interactive playable doodle of the Pacman game was displayed on Google's home page as well.
If you want to receive my latest posts, please
subscribe to my full feed RSS
or have them delivered through email. Just enter your email address below and hit the Subscribe button.
Tags: easter egg, snake, youtube
3 Responses to "How To Play Snake at YouTube"
Leave a Reply