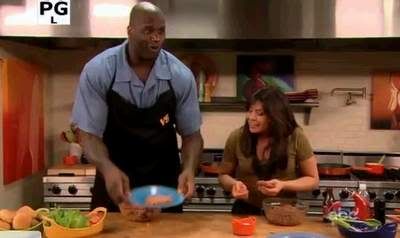 In the previous episode, Shaq attempted some hocus-pocus with magicians Penn and Teller.
In the Magic Trick Competition, Shaq got Teller as his partner. However, Shaq messed up with the routine and Penn wins the challenge.
Then off to the boxing match challenge he offered to Shane Mosley which was reminiscent of last season's challenge with Oscar dela Hoya.
The handicaps for the match were: rounds will be only 2 minutes (instead of 3), rest period will be 90 seconds (instead of 60), five rounds with the last round will only be one minute, Shaq gets to wear a lighter glove and 20 foot ring (instead of 16 foot ring) which gives Mosley room to move around.
After 5 rounds, Shane Mosley wins via Unanimous Decision with all three judges scoring it 48 to 47.
In the next episode, Shaq goes shopping with Rachael Ray in New York City, where they pick up ingredients for a burger cook-off. Also: the big man gets help from Dwight Howard, Chris Johnson and DeSean Jackson in a 200-meter relay race against sprinter Tyson Gay in Los Angeles.
Check out what happens in the Shaq VS Season 2 Episode 3 video below:
Watch Shaq VS Season 2 Episode 4 next on August 24, 2010.
Check out the other Shaq VS Season 2 episodes as well.
If you want to receive my latest posts, please
subscribe to my full feed RSS
or have them delivered through email. Just enter your email address below and hit the Subscribe button.
Tags: dwight howard, rachael ray, shaq vs, shaquille o'neal, tyson gay
3 Responses to "Shaq vs Rachael Ray / Tyson Gay"
Leave a Reply