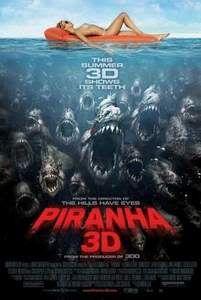 When I first heard about Piranha 3D, I dismissed it as another one of those B-movie horror flicks.
However, when I read that a 9-minute footage of the movie was supposed to be shown at the San Diego Comic-Con International last July 24, 2010 but was canceled at the last-minute, I became curious and watched the Piranha 3D banned trailer.
That's when I realized that this movie is something.
With thousands of 3D fishes with razor-sharp teeth, a lake full of boobies became full of blood.
Cables snapping and splitting a woman in two and a motorboat propeller ripping someone's face off also contributed to the carnage.
I think this movie will go down as one of the most bizarre and gory films ever.
Piranha 3D is a remake of the 1978 film Piranha. It stars Elisabeth Shue, Adam Scott, Jerry O'Connell, Ving Rhames, Jessica Szohr, Steven R. McQueen, Christopher Lloyd, Richard Dreyfuss and Kelly Brook and a cameo by horror film director Eli Roth.
PLOT (Wikipedia):
Each year the population of sleepy Lake Victoria explodes from 5,000 to 50,000 for the annual Spring Break. But then, a sudden underwater earthquake opens an underwater chasm, releasing an enormous swarm of ancient Piranha  that have been dormant for thousands of years, now with a taste for human flesh. This year, there's something more to worry about than the usual hangovers and complaints from locals, a new type of terror is about to be cut loose on Lake Victoria.
Piranha 3D is directed and produced by Alexandre Aja for a budget of $24 million.
To watch Piranha 3D online free on megavideo, click the PLAY button above.
Piranha 3D is scheduled to be released on theaters on August 20, 2010 worldwide by The Weinstein Company and Dimension Films
If you want to receive my latest posts, please
subscribe to my full feed RSS
or have them delivered through email. Just enter your email address below and hit the Subscribe button.
Tags: eli roth, movie, piranha 3D
One Response to "Piranha 3D, Don't Scream… Just Swim!"
Leave a Reply