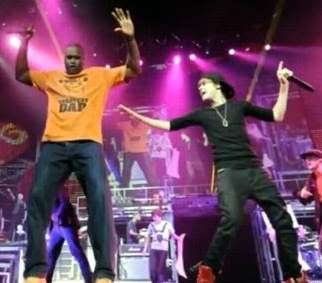 After actually winning a challenge for the first time ever at Episode 3, Shaq two-upped it at Episode 4 by winning against competitive eating champion Joey Chestnut in a hotdog eating contest and against former NBA player Charles Barkley in a game of golf.
Against Chestnut however, Shaq had a significant advantage as he gets to pull off 5 random people from the streets to help him eat the hotdogs while Chestnut did it all by himself.
I can say that his win against Barkley was legitimate though as both of them get a professional golfer on their team.
In the next episode, Shaq will take on Pop/R&B multi-platinum singing sensation Justin Bieber live and on stage in front of thousands of screaming fans in Orlando, Florida. Then he'll travel to Hollywood to issue a challenge to ABC's late night host, Jimmy Kimmel, during his appearance on Jimmy Kimmel Live.
Check out what happens in the Shaq VS Season 2 Episode 5 video below:
Check out the other Shaq VS Season 2 episodes as well.
If you want to receive my latest posts, please
subscribe to my full feed RSS
or have them delivered through email. Just enter your email address below and hit the Subscribe button.
Tags: jimmy kimmel, justin bieber, shaq vs, shaquille o'neal
2 Responses to "Shaq vs Justin Bieber / Jimmy Kimmel"
Leave a Reply