Machete, A Pissed Off Mexican Out to Settle a Score
Category:
Entertainment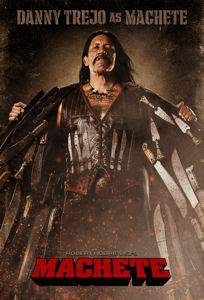 First appearing as a fake trailer in the B-movie Grindhouse, Machete is now a full-length film co-written, produced, and directed by Robert Rodriguez.
The actor who played the character named Machete in the Spy Kids movie series, Danny Trejo also plays the title character Machete in this one although the two characters are not really related to each other.
Surprisingly for a B-movie, Machete actually features an all-star supporting cast with Steven Seagal and Robert de Niro.
However, what might incline me to watch the movie is because of the hot Michelle Rodriguez, the hotter Jessica Alba and the sizzling hot Lindsay Lohan who reportedly goes topless in the film while swimming in a waterfall.
Whew!
SYNOPSIS (IMDB):
Machete (Danny Trejo) is a renegade former "Mexican Federale". He roams the cities, towns, and streets of Texas looking for work after a shakedown from a drug lord called Torrez (Steven Segal).

Machete has a run-in with Michael Benz (Jeff Fahey), a local businessman and spin doctor, who tells Machete that McLaughlin (Robert De Niro), a corrupt senator, is sending hundreds of illegal immigrants out of the country and that he must be killed. Benz offers Machete $150,000 to kill McLaughlin who quickly accepts the murder contract out of greed for the money.

Attempting to assassinate the senator at a political rally, Machete is double-crossed and is shot in the shoulder by Benz's henchmen whom are soon revealed to be in league with Senator McLaughlin who orchestrated the entire attempted assassination with Benz as part of a false flag operation to gain widespread public support for McLaughlin's harsh anti-immigration laws by setting up Machete as the patsy to make it appear that an outlaw illegal Mexican immigrant tried to assassinate the senator.

Now on the run from the law and being tracked not only by a ruthless henchwoman hired by Torrez, but Machete is also tracked down by Sartana (Jessica Alba), a persistant U.S. Immigration and Customs Enforcement agent with a special interest in the blade slinger. Machete goes after Benz and his men, as well as Senator McLaughlin, with the help of his only three allies; his "holy" Federale-turned-priest brother Padre (Cheech Marion) with a thing for pump-action shotguns; a saucy meat cleaver-wielding taco slinger named Luz (Michelle Rodriguez); and Benz socialite daughter April (Lindsey Lohan), whom Machete kidnapps and who soon develops a fancination for the blade-wielding fugitive since April has a penchant for guns. Machete rallies a group of illegal migrants together, and they all begin to hunt the people who double crossed him.
Machete is directed and produced by Robert Rodriguez for a budget of $25 million.
To watch Machete online free on megavideo, click the PLAY button above.
Machete is scheduled to be released on theaters on September 3, 2010 worldwide by 20th Century Fox.
If you want to receive my latest posts, please
subscribe to my full feed RSS
or have them delivered through email. Just enter your email address below and hit the Subscribe button.
Tags: jessica alba, lindsay lohan, machete, movie
5 Responses to "Machete, A Pissed Off Mexican Out to Settle a Score"
Leave a Reply