200: Celebrate and Dominate | Mosley vs Mora
Category:
Boxing
Last May 1, 2010 at the MGM Grand Garden Arena in Las Vegas, Texas, Shane Mosley almost became the first person to tarnish Floyd Mayweather, Jr's perfect record.
But alas, it was not meant to be as he faded in the latter rounds to lost via Unanimous Decision.
On September 18, 2010, Mosley will try to prove to those who were saying that he is simply already too old. He faces Sergio Mora in the main event of "200: Celebrate and Dominate" as part of the Mexican Bicentennial weekend.
Check out the Mosley vs Mora fight card / undercard.
You can watch Mosley vs Mora LIVE via pay-per-view (PPV) boxing TV providers and operators on Saturday, September 18,  2010 with a 10:00 PM start time.
However, if you can't watch it on TV, you can watch Mosley vs Mora online free on streaming sites like Justin TV, Freedocast, LiveStream and UStream. You just have to look for them patiently.
You can also watch it through your favorite Sopcast channel.
=======================================================
UPDATE: Mosley vs Mora has wrapped up!
Check out the official fight card results.
If you missed it, you can watch the replay below: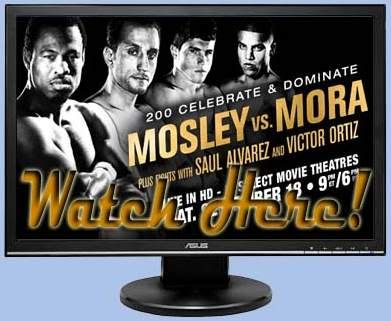 You can also check out the following fight videos:
Shane Mosley vs Sergio Mora video
Saul Alvarez vs Carlos Manuel Baldomir video
Victor Ortiz vs Vivian Harris video
Daniel Ponce de Leon vs Antonio Escalante video
If you want to receive my latest posts, please
subscribe to my full feed RSS
or have them delivered through email. Just enter your email address below and hit the Subscribe button.
Tags: 200: celebrate and dominate, carlos baldomir, daniel ponce de leon, saul alvarez, sergio mora, shane mosley, victor ortiz, vivian harris
Leave a Reply