200: Celebrate and Dominate | Long Live Mexico!
Category:
Boxing
"200: Celebrate and Dominate" is a boxing event featuring the best boxers of Mexican descent today.
It is part of the celebration of the 200th Mexican Independence Day weekend.
The main event will be headlined by Mexicutioner "Sugar" Shane Mosley who has dispatched all of his Mexican opponents before and never yet lost to one with Mexican blood going against a man hoping to end that streak as well as Mosley's boxing career for good, Sergio "The Latin Snake" Mora.
It will take place on September 18, 2010  at the Staples Center in Los Angeles, California, USA with a 10:00 PM start time.
Check out the Mosley vs Mora fight card / undercard.
You can watch Mosley vs Mora LIVE via pay-per-view (PPV) boxing TV providers and operators on Saturday, September 18, 2010.
However, if you can't watch it on TV, you can watch Mosley vs Mora online free on streaming sites like Justin TV, Freedocast, LiveStream and UStream. You just have to look for them patiently.
You can also watch it through your favorite Sopcast channel.
=======================================================
UPDATE: Mosley vs Mora has wrapped up!
Check out the official fight card results.
If you missed it, you can watch the replay and highlights below: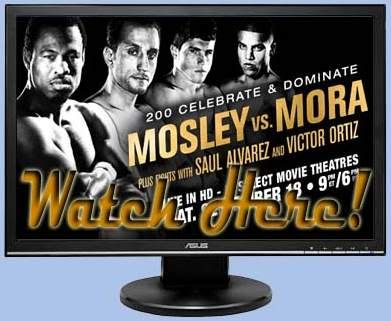 You can also check out the following fight videos:
Shane Mosley vs Sergio Mora video
Saul Alvarez vs Carlos Manuel Baldomir video
Victor Ortiz vs Vivian Harris video
Daniel Ponce de Leon vs Antonio Escalante video
If you want to receive my latest posts, please
subscribe to my full feed RSS
or have them delivered through email. Just enter your email address below and hit the Subscribe button.
Tags: 200: celebrate and dominate, carlos baldomir, daniel ponce de leon, saul alvarez, sergio mora, shane mosley, victor ortiz, vivian harris
Leave a Reply