UFC 119 | Antonio Rogerio Nogueira vs Ryan Bader
Category:
MMA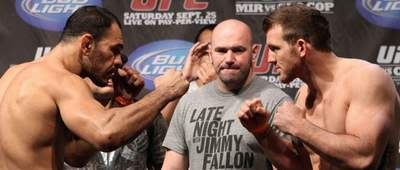 With his second consecutive UFC victory after his debut at UFC 106, Antônio Rogério Nogueira is on a roll.
Don't mistake him for that other Nogueira as he Rogerio, not Rodrigo. They are actually twin brothers. Being younger (by seconds), he is called "Little Nog".
At UFC 119, Nogueira tries to make his own mark inside the Octagon. He will face Ryan "Darth" Bader.
Brazilian Antônio Rogério Nogueira (19 wins, 3 losses) was the 2006 and 2007 Brazilian Super Heavyweight Champion. He also won a bronze medal in the 2007 Pan American Games. He holds notable wins over Dan Henderson, Kazushi Sakuraba, Alistair Overeem, Guy Mezger, Vladimir Matyushenko and Luiz Cane while fighting for Pride at Japan.
His last fight was at UFC 106 where he salvaged a split decision win that was named as "Fight of the Night" over Jason Brilz.
American Ryan Bader (11 wins – 0 loss, 5 KOs / 3 submission) is the winner of The Ultimate Fighter: Team Nogueira vs. Team Mir.He is ranked as the #10 light heavyweight fighter in the world by Sherdog.
His last fight was at UFC 110 where he knocked-out Keith Jardine in Round 3.
Watch UFC 119 online FREE on Justin TV or your favorite Sopcast channel this Saturday, September 25, 2010 at Conseco Fieldhouse in Indianapolis, Indiana, USA.
The replay immediately follows if you happened to miss the UFC 119 LIVE stream.
=======================================================
UPDATE: UFC 119 has wrapped up!
You can also check out the UFC 119 results.
Here's the Antonio Rogerio Nogueira vs Ryan Bader fight video:
You can also check out the following UFC 119 videos from the fight card once available:
Frank Mir vs Mirko "Cro Cop" video
Matt Serra vs Chris Lytle video
Sean Sherk vs Evan Dunham video
Melvin Guillard vs Jeremy Stephens video
If you want to receive my latest posts, please
subscribe to my full feed RSS
or have them delivered through email. Just enter your email address below and hit the Subscribe button.
Tags: antonio rogerio nogueira, ryan bader, UFC 119
Leave a Reply