UFC 119 | Frank Mir vs Mirko "Cro Cop" Filipovic
Category:
MMA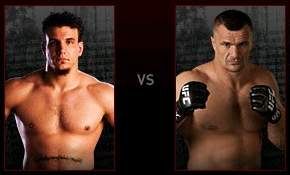 When UFC Heavyweight Champion Brock Lesnar was out due to health concerns, a UFC Interim Heavyweight Championship matchup was created.
At UFC 111, Frank Mir and Shane Carwin battled it out with Mir losing via a brutal knockout.
Now at UFC 119, Mir is on the road back to redemption.
Frank Mir, a veteran of 16 fights inside the Octagon faces Mirko "Cro Cop" Filipović, a man who possesses one of the most lethal leg kicks in the history of MMA.
American Frank Mir (13 wins, 5 losses) is a two-time former UFC Heavyweight Champion and currently ranked the #6 heavyweight in the world by Sherdog. Along with Antonio Rodrigo Nogueira, he was one of the coaches for Season 8 of the UFC-produced reality show, The Ultimate Fighter. He is an excellent submission fighter with good Muay Thai skills.
Croation Mirko "Cro Cop" Filipovic (26 wins-7 losses, 20 KOs / 3 submission) in his heydays became one of the biggest stars in mixed martial arts while in PRIDE and had legendary battles with the likes of Fedor Emelianenko, Antonio Rodrigo Nogueira and Wanderlei Silva, among many others. He is a large heavyweight kickboxer who often relies on his strong legs to knock opponents out.
You might say that he has grown old and has yet to dominate the UFC with only a 4 win-3 loss record to show for but don't say that he is done.
Contemplating retirement after his loss to Junior dos Santos at UFC 103, he returned with a win over Anthony Perosh at UFC 110 and a surprising submission victory over Pat Barry at UFC 115.
Watch UFC 119 online FREE on Justin TV or your favorite Sopcast channel this Saturday, September 25, 2010 at Conseco Fieldhouse in Indianapolis, Indiana, USA.
The replay immediately follows if you happened to miss the UFC 119 LIVE stream.
=======================================================
UPDATE: UFC 119 has wrapped up!
Check out the UFC 119 results.
Here's the Frank Mir vs Mirko "Cro Cop" fight video:
You can also check out the following UFC 119 videos from the fight card once available:
Antonio Rogerio Nogueira vs Ryan Bader video
Matt Serra vs Chris Lytle video
Sean Sherk vs Evan Dunham video
Melvin Guillard vs Jeremy Stephens video
If you want to receive my latest posts, please
subscribe to my full feed RSS
or have them delivered through email. Just enter your email address below and hit the Subscribe button.
Tags: frank mir, mirko cro cop, UFC 119
Leave a Reply