200: Celebrate and Dominate | Mosley vs Mora Ends in Controversial Split Draw
Category:
Boxing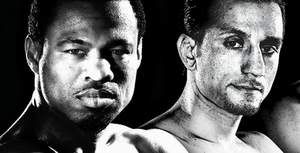 At 38 years of age, "Sugar" Shane Mosley almost did what forty other boxers failed to do, defeat Floyd "Pretty Boy" Mayweather, Jr.
In a dominating Round 2 of his  fight with Mayweather last May 1, 2010 at the MGM Grand Garden Arena in Las Vegas, Texas, he almost had it. But clearly, age is catching up to Mosley as he withered in the latter rounds and lost via a lopsided Unanimous Decision to Mayweather.
On September 18, 2010 at the Staples Center in Los Angeles, California, USA, the number five pound-for-pound boxer in the world will be making his last stand  in conjunction with the Mexican Bicentennial weekend. Presented by HBO Sports pay-per-view, the event will be aptly titled "200: Celebrate and Dominate" that features a great fight card.
He faces former WBC Light Middleweight Champion and also the first champion of NBC's The Contender, Sergio "The Latin Snake" Mora.
Mora for his part is looking to become the first fighter of Mexican descent to defeat the Future Hall of Famer. Mosley has Antonio Margarito and Fernando Vargas among his list of Mexican victims but I can say that Manny Pacquiao is the real "Mexicutioner."
In this fight, Mosley is actually moving back up to the Light Middleweight division while Mora is dropping back down to the 154-pound weight division where he formerly was the WBC Light middleweight titleholder in 2008.
American Shane Mosley (46 wins – 6 losses, 39 KOs)  has won world titles in three weight divisions and is the former WBA Welterweight Super Champion. He has defeated a who's who of boxers: Oscar De La Hoya, Fernando Vargas, Luis Collazo, Ricardo Mayorga and Antonio Margarito. His 5 losses were against noteworthy opponents as well: twice to Vernon Forrest, twice to Winky Wright and once to Miguel Cotto.
In his fight against Margarito and coming in to the fight as a 4-1 underdog, Mosley has stunned the boxing community using his superior hand speed, pinpoint accuracy and countless huge right hands to the jaw, to wear Margarito down and stop him with a technical knock-out in the 9th round.
Mexican Sergio Mora (22 wins – 1 loss – 1 draw, 6 KOs) is the first champion of NBC's The Contender. He won the WBC Light Middleweight Championship in June 2008 after pulling off an upset victory against Vernon Forrest. But in their rematch, Forrest retook the title giving Mora his first ever career loss.
His last fight was against Calvin Green on April where he knocked him out in the 7th Round.
My results prediction?
At 39 years old, Shane Mosley is trying to prove that age is just a number. He might have lost to Floyd Mayweather Jr. in his last fight but he showed that the power is still there.
Mora fights like a snake; he waits for an opportune moment then attack. He comes in and out and might be too fast for Mosley. However, this snake lacks venom. Only six knockouts in 24 fights? You know what I mean.
With his style, he can just throw jabs and rack up points enough for him to win a decision. But if Mosley can catch him in the first few rounds, it's finished.
I predict a TKO win for Mosley in Round 5.
=======================================================
UPDATE: Mosley vs Mora has wrapped up!
The bout ended in a Draw. Scores (Mora 115–113, Mosley 116–112, 114–114).
Check out the complete fight card results.
Check out the Shane Mosley vs Sergio Mora fight video below:
If you missed it, you can watch the replay or highlights which will be offered after the fight.
You can also check out the following undercard fight videos:
Saul Alvarez vs Carlos Baldomir video
Victor Ortiz vs Vivian Harris video
Daniel Ponce de Leon vs Antonio Escalante video
If you want to receive my latest posts, please
subscribe to my full feed RSS
or have them delivered through email. Just enter your email address below and hit the Subscribe button.
Tags: 200: celebrate and dominate, sergio mora, shane mosley
2 Responses to "200: Celebrate and Dominate | Mosley vs Mora Ends in Controversial Split Draw"
Leave a Reply