Strikeforce San Jose: Diaz vs Noons 2
Category:
MMA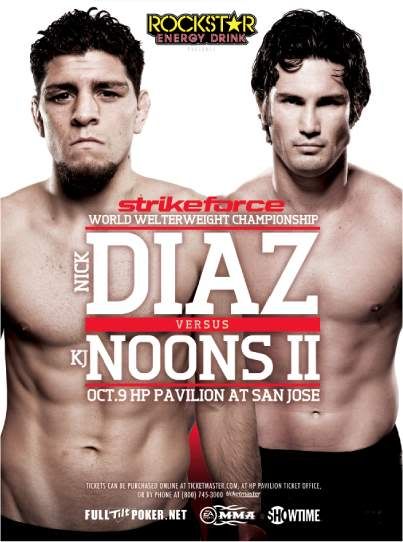 Three years after their first encounter, Nick Diaz and KJ Noons meets in a rematch in the main event of Strikeforce: San Jose.
Strikeforce: San Jose will be held on October 9, 2010 at the HP Pavilion in San Jose, California, USA.
In this event, Diaz will have his first title defense of the Strikeforce Welterweight Championship he won from Marius Žaromskis at Strikeforce: Miami.
The co-main event also features another title up for grabs with Sarah Kaufman defending her Strikeforce Women's Welterweight against Marloes Coenen.
This MMA event will be aired LIVE on network television at Showtime in the USA and on Super Channel in Canada on October 9, 2010. The LIVE show will start at 10 PM ET/7 PM PT / 3AM BST . The unaired prelims will start at 5:00 PM.
However, if you can't watch it on TV, several sites will actually offer it for free like Justin TV, Freedocast, LiveStream and UStream. Two of the preliminary cards will be even shown at Sherdog.
=======================================================
UPDATE: Strikeforce San Jose has wrapped up!
Check out the official fight card results.
If you failed to watch Strikeforce: San Jose LIVE, here's the replay highlights.
[ad name="textimage_beforeposts"]
You can also watch the Nick Diaz vs KJ Noons 2 video.
If you want to receive my latest posts, please
subscribe to my full feed RSS
or have them delivered through email. Just enter your email address below and hit the Subscribe button.
Tags: kj noons, nick diaz, sarah kaufman, strikeforce
Leave a Reply