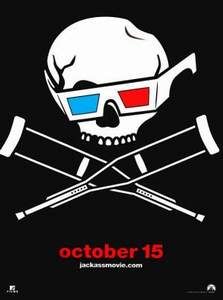 The Jackass crew is back!
For the third time, they will be doing outrageous, dangerous, crude, ridiculous, and self-injuring stunts and pranks in order to please people like us who enjoys this kind of sick stuff.
And this time, they will be doing it in Avatar-like fashion, in 3D!
There's even a cameo by Beavis and Butt-head in the introduction explaining the 3D technology behind the movie. The intro features the cast lining up and then being attacked by various objects in slow-motion.
The entire cast from the previous Jackass movies return as themselves with guys like Johnny Knoxville, Bam Margera, Steve-O, Ryan Dunn and Jason "Wee Man" Acuña.
Jackass 3D is directed by Jeff Tremaine and co-produced with Spike Jonze and Johnny Knoxville for a budget of $20 million.
To watch Jackass 3D online free on megavideo, click the PLAY button above.
Jackass 3D was released worldwide on October 15, 2010 by Paramount Pictures.
If you want to receive my latest posts, please
subscribe to my full feed RSS
or have them delivered through email. Just enter your email address below and hit the Subscribe button.
Tags: jackass 3d, movie
Leave a Reply