UFC 121 | Brock Lesnar vs Cain Velasquez
Category:
MMA
At "The Biggest Heavyweight Battle in History" at UFC 116, Brock Lesnar pulled off one of the biggest comeback in UFC history when he  survived a Shane Carwin onslaught in Round 1 and submitted him via arm triangle choke in Round 2.
Despite losing his aura of invincibility, Lesnar proved that he has the heart of a champion.
After all, that was his first fight after being sidelined by an illness for one year.
American Brock Lesnar (5 wins-1 loss, 2 KOs / 1 submission) despite his lack of experience in the world of mixed-martial arts is actually an accomplished amateur wrestler, winning the 2000 NCAA heavyweight wrestling championship. He is currently ranked the #1 Heavyweight in the world by Sherdog and MMA Weekly.
Before he ventured into MMA, Lesnar was a three-time WWE Champion and the youngest person ever to hold that championship at that time. He was also the 2002 King of the Ring, and the winner of the 2003 Royal Rumble.
Check out his highlights video from his WWE days up to his UFC heavyweight champion reign.
At UFC 121, "The Baddest Man on the Planet" returns to defend his UFC Heavyweight Title for the third time.
Out to challenge him is Cain Velasquez who wants to become the first Mexican heavyweight champion.
The undefeated Velasquez (8 wins – 0 loss, 7 KOs) earned his shot to title fame after knocking out Minotauro at UFC 110.
My UFC 121 results prediction?
Although smaller than Shane Carwin, Velasquez possess knock out power that can take out a juggernaut like Lesnar is.
With a game plan already set by Carwin at UFC 116, Velasquez will look to fight standing where he has the slight edge.
However, if Lesnar finds his way to putting Velasquez to the ground and work his ground and pound game, Lesnar will win this.
I predict a KO win via referee stoppage for Lesnar.
Watch UFC 121 LIVE stream FREE on Justin TV or Sopcast on Saturday, October 23, 2010 – 7PM PT / 10PM ET / 3AM BST LIVE from the Honda Center in Anaheim, California, USA.
=======================================================
UPDATE: UFC 121 has wrapped up!
Check out the UFC 121 results to know if my fight prediction was right on target.
Check out the Brock Lesnar vs Cain Velasquez fight video at the link below:
[ad name="textimage_beforeposts"]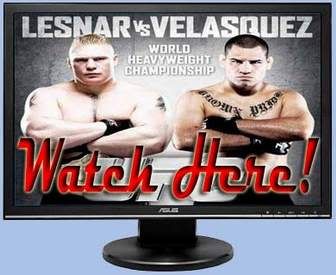 Check out the UFC 121 replay if you happened to miss it LIVE.
You can also check out the following UFC 121 videos:
Jake Shields vs Martin Kampmann video
Diego Sanchez vs Paulo Thiago video
Tito Ortiz vs Matt Hamill video
Brendan Schaub vs Gabriel Gonzaga video
If you want to receive my latest posts, please
subscribe to my full feed RSS
or have them delivered through email. Just enter your email address below and hit the Subscribe button.
Tags: brock lesnar, cain velasquez, UFC 121
93 Responses to "UFC 121 | Brock Lesnar vs Cain Velasquez"
Leave a Reply