Paranormal Activity 2, Ready to Scare Us Again
Category:
Entertainment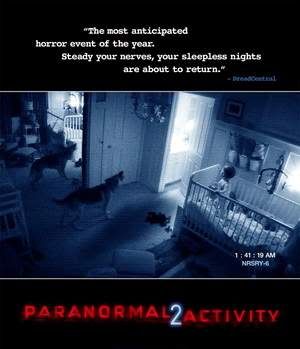 Paranormal Activity was a sleeper hit last year grossing US$193 million from a budget of only $15,000.
It was such a huge cult hit that a sequel was inevitable.
This year, Paranormal Activity 2 is set to scare the hell out of us once again.
Presented in the style of "found footage" ala-The Last Exorcism, it is actually a prequel as the events here starts several months before the events in the original movie but the final five minutes serve as the sequel.
The movie's plot seems to center on a boy kid named Hunter.
If in the original film, only one camera was used, the actors here uses six security cameras around their new home as they experience a series of what they think are "break-ins".
Both of the main actors, Katie Featherston and Micah Sloat, returned to act together again.
Paranormal Activity 2 is directed by Tod Williams and produced by Oren Peli for a budget of $3 million.
To watch Paranormal Activity 2 online free on megavideo, click the PLAY button above.
Paranormal Activity 2 was released in theaters at midnight on October 22, 2010 in the United States, Mexico, United Kingdom and Canada by Paramount Pictures and Dreamworks.
If you want to receive my latest posts, please
subscribe to my full feed RSS
or have them delivered through email. Just enter your email address below and hit the Subscribe button.
Tags: movie, paranormal activity 2
One Response to "Paranormal Activity 2, Ready to Scare Us Again"
Leave a Reply