Pacquiao vs Margarito, Pacman Eyes Eight World Title
Category:
Boxing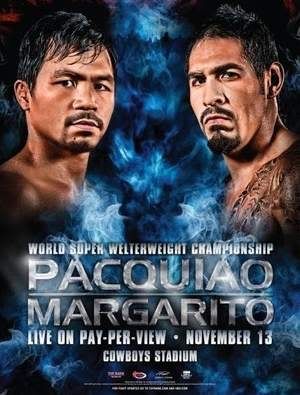 Current pound for pound king Manny Pacquiao made history against Miguel Cotto in December 2009 when he captured Cotto's WBO Welterweight and in the process became the first man ever to win seven world titles in as many division.
On November 13, 2010 at the Cowboys Stadium in Arlington, Texas, USA, Pacquiao wants to extend his record to eight as he goes against Antonio Margarito for the vacant WBC Super Welterweight World Title.
Check out the Pacquiao vs Margarito fight card / undercard.
You can watch Pacquiao vs Margarito LIVE via pay-per-view (PPV) boxing TV providers and operators on Saturday, November 13, 2010 with a 9:00 PM start time.
However, if you can't watch it on TV, you can watch Pacquiao vs Margarito online free on streaming sites like Justin TV, Freedocast, LiveStream and UStream. You just have to look for them patiently.
You can also watch it through your favorite Sopcast channel.
=======================================================
UPDATE: Pacquiao vs Margarito has wrapped up!
Check out the results to know who won the battle.
If you missed the event, you can watch the replay or fight highlights which will be offered after the fight.
You can also check out the Manny Pacquiao vs Antonio Margarito fight video.
If you want to receive my latest posts, please
subscribe to my full feed RSS
or have them delivered through email. Just enter your email address below and hit the Subscribe button.
Tags: antonio margarito, manny pacquiao
Leave a Reply