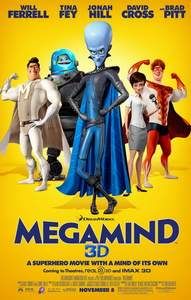 After Despicable Me, here's another superhero movie where the hero is actually a villain.
Megamind's plot is based on the premise, "What if Lex Luthor defeated Superman?"
Now, that makes up for an interesting story.
Megamind stars the voices of Will Ferrell as Megamind, Brad Pitt as Metro Man, Tina Fey as Roxanne Ritchi and Jonah Hill as Hal/Tighten.
PLOT (IMDB):
After super-villain Megamind (Ferrell) kills his good-guy nemesis, Metro Man (Pitt), he becomes bored since there is no one left to fight. He creates a new foe, Titan (Hill), who, instead of using his powers for good, sets out to destroy the world, positioning Megamind to save the day for the first time in his life.
Megamind is directed by Tom McGrath and produced by Lara Breay and Ben Stiller for a budget of $160 million.
To watch Megamind online free on megavideo, click the PLAY button above.
Megamind is set to be released in the United States in Digital 3D, IMAX 3D and 2D on November 5, 201o by Paramount Pictures.
If you want to receive my latest posts, please
subscribe to my full feed RSS
or have them delivered through email. Just enter your email address below and hit the Subscribe button.
Tags: brad pitt, megamind, movie, superhero, superman, will ferrell
One Response to "Megamind, Giving Bad A Good Name"
Leave a Reply