How To Check and Fix Broken Links in Your Website
Category:
How To
A website can't be called as such if it has no links. Links direct readers to any part of your site. Think of it as a map.
It can also provide a rich experience for them if you provide links of websites related to your articles.
As such, it is important to check your links from time to time. Because sometimes, links become broken due to several factors: expired domains, deletion or you just simply wrote the wrong link in the first place.
Broken links can be frustrating for a reader when they click on it and directed to a 404 or "Page Not Found" webpage.
SEO-wise, broken links can make your website's ranking factor go down as search engines will consider your site as still being "under construction" since the spiders (or bots) will not be able to crawl your website completely. Those that they tagged as such usually are not given high rank in the SERPs (search engine results page).
Google's Webmaster Guidelines even specifically tells us to "Check for broken links and correct HTML."
If your site has hundreds of posts, checking each one manually for broken links would be tedious.
For WordPress sites, there's a good plugin that will do the job for you.
The Broken Link Checker will check your posts, comments and other content for broken links and notify you if any are found. It even includes images. [DOWNLOAD HERE!]
After downloading, installing, and activating it, go to your Dashboard > Tools > Broken Links.
The plugin should now scan your entire site.
There's an option to "Stop search engines from following broken links", check that.
Click on the Status result to view the list of broken links.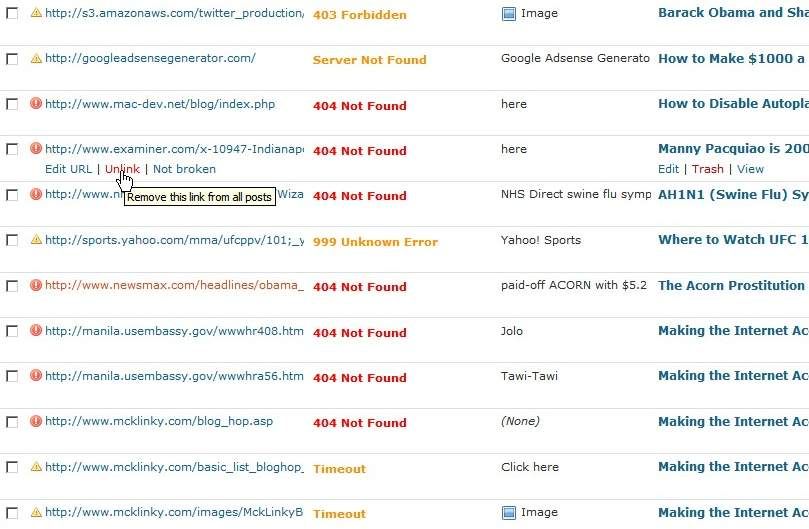 You can now have the option of editing the URL or removing the link completely. You can also tag it as "Not broken" if it has been misidentified as broken.
It's as simple as that.
Remember to practice this as part of your website maintenance.
Updating your pages regularly actually signals the search engine bots to crawl your site frequently. This helps you maintain good standings in their SERPs and outlast your competing sites.
If you want to receive my latest posts, please
subscribe to my full feed RSS
or have them delivered through email. Just enter your email address below and hit the Subscribe button.
8 Responses to "How To Check and Fix Broken Links in Your Website"
Leave a Reply