The Year That Was: Chatroulette Tops Google Search Results for 2010
Category:
Computers
,
News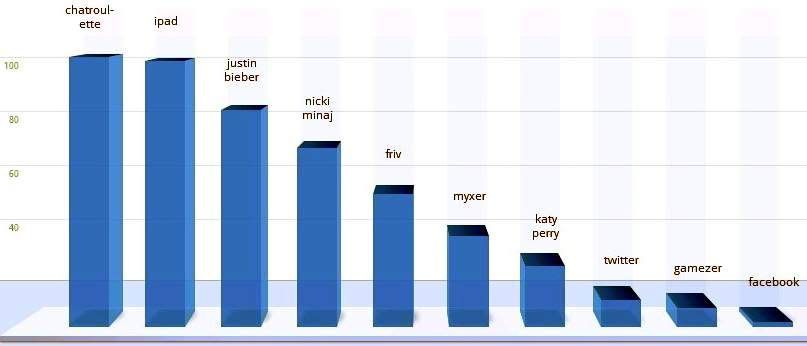 Chatroulette is the most googled term for the year 2010.
Yes, more people typed "chatroulette" in the Google search engine than "justin bieber", "lady gaga", "ipad"or even our favorite "facebook".
This is based on Google's micro site Zeitgeist.
"Zeitgeist" means "the spirit of the times", and Google reveals this spirit through the aggregation of millions of search queries we receive every day. We have several tools that give insight into global, regional, past and present search trends. These tools are available for you to play with, explore, and learn from. Use them for everything from business research to trivia answers.
For those unfamiliar with it, Chatroulette is a Russian based website that pairs random strangers from around the world together for webcam-based conversations. The term is a play on the lethal game of Russian roulette in which participants place a single round in a revolver, spin the cylinder, place the muzzle against their head and pull the trigger.
So, the concept of webcam-chatting with some random strangers are now thrilling people all over the world.
With only 2,910,000 results for the keyword "chatroulette", perhaps we could make a blog post about it and optimize it so that it ranks high in the Google SERPs and make it one of our site's cash cows.
Or better yet, do a research on Google Insights on the keyword's variations that have lower search results but high traffic. Think of HITLODs.
Go!
Here's the full Google Top 10 Search Results for 2010 (Zeitgeist 2010: How the world searched)
1. chatroulette
2. ipad
4. nicki minaj
5. friv
6. myxer
7. katy perry
8. twitter
9. gamezer
10. facebook
If you want to receive my latest posts, please
subscribe to my full feed RSS
or have them delivered through email. Just enter your email address below and hit the Subscribe button.
Tags: chatroulette, google, google trends, google zeitgeist
One Response to "The Year That Was: Chatroulette Tops Google Search Results for 2010"
Leave a Reply