Chatroulette tops the Google search results for 2010 based on Google's micro site Zeitgeist.
You might probably have read the term for the first time here as this craze have not really hit our country this past year.
What made us Pinoys really crazy were jejemon, Charice Pempengco, Plants vs Zombies and Facebook.
It's not surprising to know then that these are among the top searches for Google users in the Philippines for the year 2010.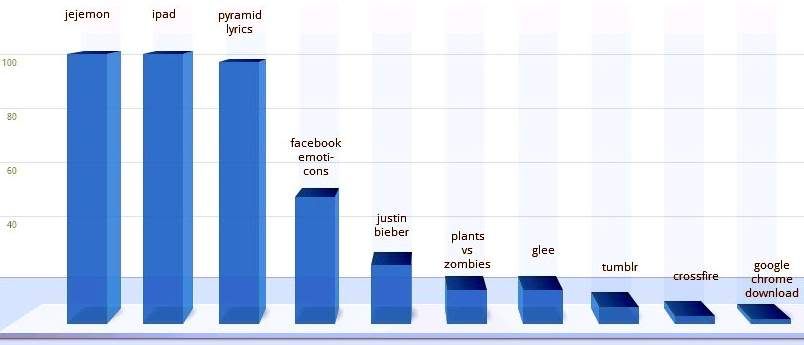 According to Zeitgeist, the word "jejemon" was the most heavily searched term.
These are people who constantly annoys other people with their own alien language at facebook and other social networking sites. Their "jejeje" instead of "hehehe" when texting is also irritating.
Here's the full fastest rising search terms list for Google Philippines users for 2010:
1. jejemon
2. ipad
3. pyramid lyrics
4. facebook emoticons
5. justin bieber
6. plants vs zombies
7. glee
8. tumblr
9. crossfire
10. google chrome download
These are the most popular:
1. facebook
2. lyrics
3. you
4. yahoo
5. youtube
6. games
7. quotes
8. google
9. facebook login
10. mail
The 2010 Zeitgeist also listed the fastest rising people, newsmakers, news, travel destinations, TV news and music artists that were topped by jason ivler, pacquiao, 2010 election result, cebu, agua bendita and charice pempengco respectively.
Check out the complete list here.
I tell you bloggers, there are tons of HITLODs in that list. 😉
If you want to receive my latest posts, please
subscribe to my full feed RSS
or have them delivered through email. Just enter your email address below and hit the Subscribe button.
Tags: google, google trends, google zeitgeist
6 Responses to "The Year That Was: Google Philippines Top Search Results for 2010"
Leave a Reply