Winning Mega Millions Numbers Eerily Familiar to Lost TV Series Fans
Category:
News
There was something eerie about the winning Mega Millions numbers yesterday.
If you are a fan of the Lost TV series, you will notice something familiar about them.
Yes, four of the winning numbers are similar to the series of six numbers that keeps appearing all throughout the show – 4, 8, 15, 16, 23 and 42.
Those numbers also happen to be character Hugo "Hurley" Reyes' winning lottery numbers that made him $114 million richer.
See the similarities below: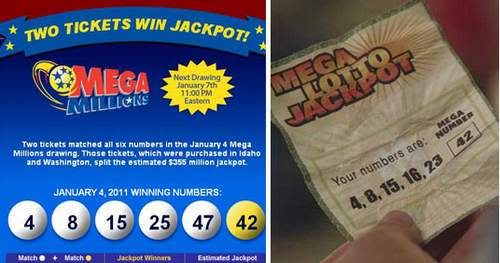 Lost fans must be excited watching the draw as the first three numbers were exact matches. The "mega ball" kicker number of 42 is the same too.
The Lost numbers were 4,8,15,16,23 and 42 while the Mega Millions numbers were 4,8,15,25, 47 and 42.
Anyone who played the "Lost" numbers would have won $150 per ticket by hitting 4 numbers.
The winning jackpot prize is $355 million – the fourth-largest in US history and the second-largest in Mega Millions' history. The lottery's prize of $390 million in March 2007 remains the nation's richest on record.
In comparison, the record amount for the Philippines lottery is only at a "mere" $17 million for the Grand Lotto 6/55 draw last November 29, 2010.
Two people reportedly has the winning numbers.
Let's just hope that the numbers are not cursed.
Here's a video of Hurley winning the lottery at Lost:
If you want to receive my latest posts, please
subscribe to my full feed RSS
or have them delivered through email. Just enter your email address below and hit the Subscribe button.
Tags: grand lotto 6/55, lost season 6, mega millions
Leave a Reply