Blake Griffin Headlines 2011 NBA Slam Dunk Contest
Category:
Basketball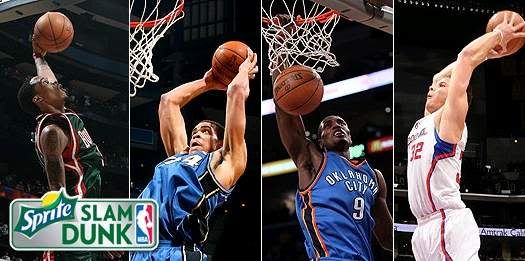 Three-time Sprite Slam Dunk champion Nate "KryptoNate" Robinson will not be coming back to defend his crown at this year's edition.
So is former champ Dwight "Superman" Howard. Lebron James egged by many to participate don't want to join too.
One player most fans want to see has fortunately accepted the invitation though: the LA Clippers' Blake Griffin.
Other players who have suited are the Milwaukee Bucks' Brandon Jennings, the Oklahoma City Thunder's Serge Ibaka and the Washington Wizards' JaVale McGee.
With that quality of opponents, Blake Griffin is the hands-down favorite to win the 2011 NBA Slam Dunk Contest.
If you have been living under the rock, check out Blake Griffin's highlight dunks. This early, he has already been named as one of the top three best dunkers of all time!
Take note that he is not just a dunker as the first pick of the 2009 NBA Draft currently has racked up 21-straight double-doubles and is on pace to become the first rookie since The Big Shamrock to average 20-points and 12-rebounds in their rookie campaign.
JaVale McGee dunk highlights:
Brandon Jennings dunk highlights:
Serge Ibaka dunk highlights:
GUIDELINES:
The two dunkers with the highest first round scores will advance to the final round. The dunker with the lowest total score from the first round will compete first in the final round. Dunks then will alternate until each player has completed two. Time limit rules still apply. In the final round, fan voting polls will open via SMS TXT message and at NBA.com. The combined results from SMS TXT voting and NBA.com will determine the champion.
Watch the 2011 NBA Sprite Slam Dunk Contest on NBA All-Star Saturday Night, February 19, 2011 at the Staples Center, Los Angeles, California, USA.
The Sprite Slam Dunk is part of NBA All-Star 2011, which also includes the T-Mobile Rookie Challenge & Youth Jam, NBA All-Star Saturday Night presented by State Farm featuring the Foot Locker Three-Point Contest, Haier Shooting Stars and Taco Bell Skills Challenge; NBA All-Star Jam Session presented by Adidas; and the 60th NBA All-Star Game.
=======================================================
UPDATE January 19, 2011: Brandon Jennings, has withdrawn as a contestant in the Sprite Slam Dunk Contest.
He will be replaced by Toronto's DeMar DeRozan – the runner-up in last year's Sprite Slam Dunk Contest.
Check out more details at Sekou Smith's Hang Time Blog.
UPDATE February 20, 2011: Blake Griffin wins the Sprite Slam Dunk Contest!

If you want to receive my latest posts, please
subscribe to my full feed RSS
or have them delivered through email. Just enter your email address below and hit the Subscribe button.
Tags: 2011 NBA all-star, 2011 NBA season, blake griffin, brandon jennings, demar derozan, dunk, javale mcgee, nate robinson, serge ibaka
Leave a Reply