WWE Elimination Chamber (2011) | Prepare To Be Eliminated!
Category:
Wrestling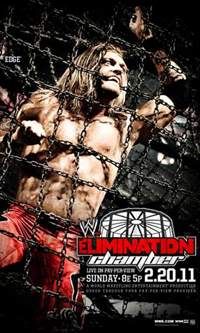 At last month's Royal Rumble, Alberto Del Rio won the 40-man Royal Rumble match to gain the first ticket for the WWE Championship match at WrestleMania XXVII.
This February 20, 2011 at the Oracle Arena in Oakland, California, USA, Del Rio's opponent will be determined in an Elimination Chamber match.
CM Punk, Randy Orton, Sheamus, John Morrison, John Cena, Jerry Lawler, and R-Truth are all going to engage in a battle inside a large chain-linked circular steel structure or "chamber" which encloses the ring.
While similar in profile and nature to WWE's original large scale steel-structured match, Hell in a Cell, the Elimination Chamber match is strictly a six participant match wherein two participants begin the bout in the ring as the remaining four are held within each inner enclosure and are released into the match at five minute intervals.
The objective is to eliminate each opponent from the match via pinfall or submission.
This is going to be exciting!
=======================================================
UPDATE February 20, 2011: WWE Elimination Chamber (2011) has wrapped up!
Check out the replay highlights below:
You can also check out the WWE Elimination Chamber (2011) results.
If you want to receive my latest posts, please
subscribe to my full feed RSS
or have them delivered through email. Just enter your email address below and hit the Subscribe button.
Tags: elimination chamber, WWE
Leave a Reply