WWE Elimination Chamber (2011) | John Cena is Going to WrestleMania XXVII!
Category:
Wrestling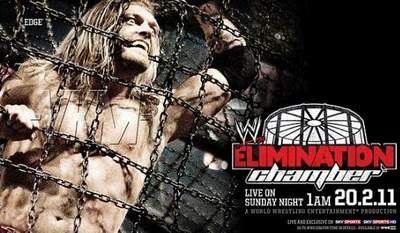 After last month's free-for-all last-man-standing Royal Rumble match won by Alberto del Rio to gain the first ticket for a championship match at WrestleMania XXVII, who will be his opponent?
Among CM Punk, Randy Orton, Sheamus, John Morrison, John Cena, Jerry Lawler, and R-Truth, who will survive the Elimination Chamber for the right to face del Rio?
Can Edge defend his World Heavyweight Championship title against four other men: Drew McIntyre, Rey Mysterio, Kane and Wade Barrett inside the Elimination Chamber?
Who has the will and guts to come out victorious in that large chain-linked circular steel structure  cicling the ring?
These questions will be answered at WWE's Elimination Chamber (2011) on February 20, 2011 at the at the Oracle Arena in Oakland, California, USA.
=======================================================
UPDATE February 20,2011: WWE Elimination Chamber has wrapped up!
Check out the complete and official WWE Elimination Chamber (2011) results below:
John Cena defeated CM Punk, John Morrison, King Sheamus, Randy Orton and R-Truth
Elimination Chamber match – The winner receives a WWE Championship match at WrestleMania XXVII
Edge (c) defeated Drew McIntyre, Rey Mysterio, Kane, Wade Barrett and Big Show
Elimination Chamber match for the World Heavyweight Championship
The Miz (with Alex Riley) (c) defeated Jerry "The King" Lawler
Singles match for the WWE Championship
Alberto Del Rio (with Ricardo Rodriguez) defeated Kofi Kingston
Singles match
The Corre (Heath Slater and Justin Gabriel) (with Ezekiel Jackson) defeated Santino Marella and Vladimir Kozlov (with Tamina)
Tag Team match for the WWE Tag Team Championship
Daniel Bryan defeated Ted DiBiase
Dark Match
If you missed it, catch the replay highlights.
If you want to receive my latest posts, please
subscribe to my full feed RSS
or have them delivered through email. Just enter your email address below and hit the Subscribe button.
Tags: elimination chamber, WWE
4 Responses to "WWE Elimination Chamber (2011) | John Cena is Going to WrestleMania XXVII!"
Leave a Reply