WWE Wrestlemania XXVII | The Rock is Back!
Category:
Wrestling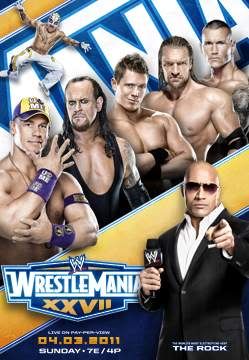 The Super Bowl of wrestling is here!
Considered as the flagship pay-per-view event of World Wrestling Entertainment (WWE), WrestleMania is the most successful and longest-running professional wrestling event in the world as well as the most anticipated.
It is known by many nicknames, "The Grandaddy of Them All", "The Grandest Stage of Them All" and "The Showcase of the Immortals."
On April 3, 2011 at the Georgia Dome in Atlanta, Georgia, USA, the 27th rendition officially dubbed Wrestlemania XXVII will take place.
It will be a joint-promotion event, featuring performers both from the Raw and SmackDown brands.
What's even more special with the event this year is that after a seven year hiatus, Dwayne "The Rock" Johnson returns to WWE to be the host of WrestleMania.
=======================================================
UPDATE April 3, 2011: It was an exciting finish to Wrestlemania 27 as The Rock returns to give John Cena the Rock Bottom and Miz the People's Elbow!
If you missed it, you can still catch up on the replay.
Check out the link below for the Wrestlemania 27 REPLAY.
You can watch WWE Wrestlemania XXVII directly on your computer. What's best with this is you don't need any additional hardware at all. Simply sign and voila, you can watch not only WWE Wrestlemania XXVII, but all future WWE events, ever.
As an added bonus, they're giving away a FREE DVR Recorder! Cool eh?
Sign up now and never miss WWE Wrestlemania XXVII… or any WWE event for that matter, ever again.
Check out the official Wrestlemania 27 results as well.
If you want to receive my latest posts, please
subscribe to my full feed RSS
or have them delivered through email. Just enter your email address below and hit the Subscribe button.
Tags: wrestlemania, WWE
One Response to "WWE Wrestlemania XXVII | The Rock is Back!"
Leave a Reply