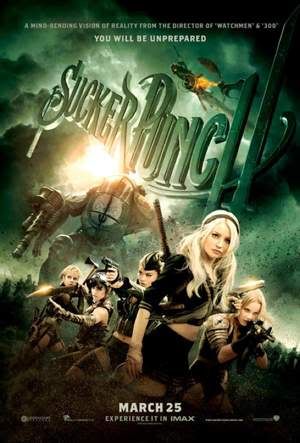 Sucker Punch reminds me of the all-girl assassin flick, So Close. Based on the movie trailer, this one packs more punch as the heroine lets loose her imagination to create a new world for herself and her friends.
It is even described by its director, Zack Snyder as "Alice in Wonderland with machine guns, including dragons, B-25 bombers and brothels".
Sucker Punch features an ensemble female cast comprising Emily Browning in the lead role as as Baby Doll, Abbie Cornish as Sweet Pea, Jena Malone as Rocket, Vanessa Hudgens as Blondie and Jamie Chung as Amber.
PREMISE (Wikipedia):
Set in the 1950s, Babydoll (Emily Browning), who was sent to a mental institution in Brattleboro, Vermont by her step-father, has only her dreams and vivid imagination to provide an escape from her dark reality. Unrestrained by the boundaries of time and place, she is free to go where her mind takes her, blurring the lines between what's real and what is imaginary.

Although she has been locked away, Babydoll has not lost her will to survive. Determined to fight for her freedom, she urges four other young girls-the outspoken Rocket (Jena Malone), the street-smart Blondie (Vanessa Hudgens), the fiercely loyal Amber (Jamie Chung), and the reluctant Sweet Pea (Abbie Cornish)—to band together and try to escape from their captors, Blue (Oscar Isaac), Madam Gorski (Carla Gugino) and the High Roller (Jon Hamm).
Sucker Punch is directed and produced by Zack Snyder for a budget of $75 million.
To watch Sucker Punch online free on megavideo, click the PLAY button above.
Sucker Punch is scheduled to be released in United States theaters on March 25, 2011 by Warner Bros.
If you want to receive my latest posts, please
subscribe to my full feed RSS
or have them delivered through email. Just enter your email address below and hit the Subscribe button.
Tags: emily browning, movie, sucker punch, vanessa hudgens
Leave a Reply