WEC 45 | Cowboy Owns 9mm
Category:
MMA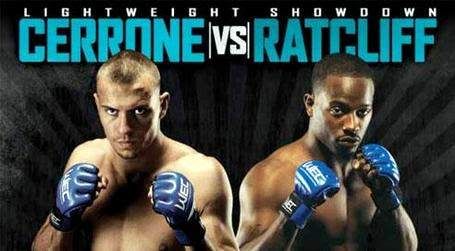 In the main event of WEC 45: Cerrone vs. Ratcliff, Donald "Cowboy" Cerrone will face Ed "9mm" Ratcliff in a non-title lightweight match which will decide who gets the crack for the World Extreme Cagefighting organization's lightweight belt.
Cerrone (10-2) started out as a Muay Thai kickboxer where he was undefeated with 28 wins and 1 draw before becoming  a mixed-martial artist. His striking skills are outstanding but he is an expert on the ground as well as 9  of his MMA wins were by submission. Ratcliff (7-1) meanwhile is a pure stand-up fighter who will always look out for the knockout.
However, if Ratcliff thinks he can take Cerrone in a standup fight, he will be wrong as Cerrone has far more superior skills and talent. Cerrone will slug it out first then take Ratcliff to the ground.
I predict a submission win by Cowboy over 9mm in the 2nd Round.
Watch WEC 45 live for free from The Pearl at the Palms in Las Vegas, Nevada, USA on the Versus Network on Saturday, December 19, 2009 at 9:00 PM ET / 8:00 PM CT.
=======================================================
UPDATE December 19, 2009: Here's the Donald Cerrone vs. Ed Ratcliff video:
If you want to receive my latest posts, please
subscribe to my full feed RSS
or have them delivered through email. Just enter your email address below and hit the Subscribe button.
Tags: donald cerrone, ed ratcliff, WEC 45
One Response to "WEC 45 | Cowboy Owns 9mm"
Leave a Reply